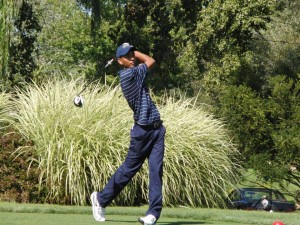 As it turns out, taking time off and recuperating isn't what the doctor ordered for the Drexel men's golf team.
In its return from an 11-day break, the team finished seventh overall out of 17 teams at the Navy Spring Invitational April 18-19. Sophomore Chris Crawford saw his streak of two consecutive individual tournament victories come to an anti-climactic finish.
Freshman Brian Fischer led the team with a two-day total of 148, good enough to finish tied for 13th in the 89-competitor field, nine strokes back of tournament champion Joe Gunerman of Towson University. It was Fischer's best two-round total of the season by 10 strokes.
Fischer did not appear in the Dragons' first five competitions this season, seeing his first action in the Auburn Tiger Invitational March 10 and 11, where he averaged 87.3 over three rounds. In the Villanova Wildcat Invitational 20 days later, Fischer shot a three-round 242 for a single-round average of 80.6. In the following week's Lafayette Invitational, the freshman shot a two-round 158, a single-round average of 79.
This week his 148 was good for a single-round average of 74, by far his best of the season and a 13.3 stroke improvement over the first appearance of his career 40 days earlier.
Behind Fischer, Crawford —who entered the Navy Spring invite riding two consecutive tournament victories in the Wildcat and Lafayette invites —shot a 9-over-par 151, tying for 25th place, his lowest finish since Oct. 22 at the Old Dominion Outer Banks Invitational and third-lowest finish in nine appearances this season.
Crawford's first-round 75 left him tied for 17th after one round, but the sophomore shot a second-round 76 and was unable to make up ground on the rest of the field in what is statistically his best round. Crawford entered the tournament averaging 70.75 in the second rounds of his eight previous appearances, including averaging 72 in two-round tournaments.
Tied for 25th with Crawford was freshman Yoseph Dance, who improved on a first-round 77 on Friday by carding a 3-over-par 74 on Saturday to tie Crawford and eight other competitors at 151.
The T-25 was Dance's second best place of the season and his best since the Leo Keenan Invitational Sept. 17, the first tournament of the season. The 151 was also his best score in a two-round invitational in four such outings.
The tournament marked the first time all season the Dragons had three players in the top 25, albeit with two golfers tied for 25th place. But it's progress nonetheless, and it comes at an ideal time for the team as the season-ending CAA tournament begins April 25 at St. James Plantation in North Carolina.
The team will face off against seven other teams, including Towson, the winners of the Navy Spring Invitational. The Tigers are led by Gunerman, the overall champion at this past weekend's tournament and an alumnus of Holy Ghost Preparatory School, the same high school that Drexel's Crawford attended.
James Madison University presents another tough opponent. The Dukes feature freshman Ryan Cole and junior Jon Weiss, both of whom have racked up five top-20 finishes in 10 outings this season.
And the overwhelming favorite to win the entire tournament is CAA newcomer College of Charleston, the No. 76-ranked team in the country according to GolfStat.com's comparative wins-based rankings system.
Charleston junior Zach Munroe has a single-round average of 72.7 through seven appearances this season, and all five of the Cougars'golfers have single-round averages of under 76. The Dragons have just one in Crawford.
So, yes, Drexel will have its work cut out against a highly competitive field.
But if the team's recent momentum continues to roll and Crawford can find his form from a couple of weeks ago, anything can happen for this young team.