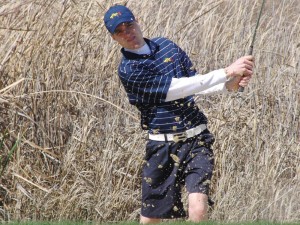 For the second straight tournament, the Drexel men's golf team finished in 11th place. This past week, April 14-15, the Dragons achieved a final score of 616, which earned them an 11th-place finish out of 17 teams at the 2012 Wolfpack Spring Open. The tournament was hosted by North Carolina State University and took place in Raleigh, N.C.
The Dragons were led by junior golfer Ben Feld, who strung together two solid performances for a 13th-place finish individually. Feld shot a 73 in the first round and followed it up with a 74 to finish three over par at 147 for the weekend.
"Not only was it a good finish, but Ben held his own in field filled with the top 50 teams as well as top-100 individuals," head coach Mike Dynda said. "It was the [Colonial Athletic Association] performance of the week."
With a final score of 153, junior James Braunsberg finished tied for 40th overall. Finishing tied for 57th was senior Michael Serensits, who shot a 156. Serensits, who struggled as he shot an 81 in his first round, rebounded with a 75 in the second round to close out on a high note.
Junior Vincent Anagnos and freshman James Parsons shot a 160 and 179, respectively.
"The team made yet another step in the right direction at NC State playing against a field with top-50 teams along with a few other CAA schools," Feld said of himself and his peers. "We played solid golf and continued to improve as we have all spring. Personally, I had my strongest performance of the spring at this event. The difficulty and condition of the course made for some tough conditions, and thought I did a lot of things well.
"I made more putts than I had been making, which was a key. I also made some avoidable mistakes that I'll continue to improve on, but I did a lot of things that I was encouraged with and had a strong finish in a very strong field."
Dynda's team will travel to the Vicmead Hunt Club in Wilmington, Del. April 25 to participate in the University of North Carolina-Wilmington Seahawk match, where they will look to improve on their two consecutive subpar performances.
"In our match with UNCW, I'll be looking forward to competing with the some of the other top players in the conference," Feld said. "In my time at Drexel, UNCW has been the team to beat in the CAA, and they once again have a very talented team. We also have a very talented team, and this will be a great, competitive tune-up to play against them heading into our conference tournament."
Despite the lull in the success for the Dragons this season, Feld remained confident that if his team can achieve its ultimate goal — to "play at a high level but have your game peak at the right time" — then they will achieve success leading up to and in the CAA Tournament.