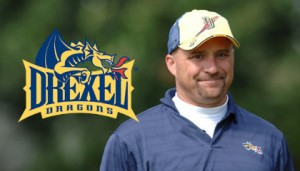 As far as the Drexel golf team is concerned, the future just keeps looking brighter.
The team's head coach, Mike Dynda, was named the best golf pro in Philadelphia in the August edition of Philadelphia magazine this past week. It is his second Philadelphia-based award of recognition since he began coaching at Drexel in 2003; in 2005, the Philadelphia PGA named him teacher of the year.
Dynda plays professionally in addition to coaching the Dragons, meaning he's involved year-round.
He said this award feels good, and it feels different — maybe even better — than any recognition he's received in a long time.
"It's pretty cool actually," Dynda said of winning the award. "I mean, I was recognized by my PGA peers in 2005 as teacher of the year, and my Colonial Athletic Association peers in 2013 [as coach of the year], but this one is a little different. This goes out to the entire Philadelphia region, not just us golf geeks."
This past season, Dynda led the Dragons to five Top 10 invitational finishes during the regular season, including the last three tournaments of the season. He also coached then-sophomore Chris Crawford to one of the best individual seasons in Drexel golf history, including back-to-back invitational wins in early April.
Dynda is an exceptional coach, but he doesn't have any John Woodenesque ideals or paradigm-shifting strategies. He said his coaching philosophy is actually extremely simple.
"Continually strive to improve," he said. "Gather knowledge, correct knowledge, and apply it by playing and practicing your ass off. … And always remember to do it with a positive and optimistic attitude, because if you let it, this game will beat you up."
Dynda has a long, winding history with the sport of golf that actually dates back to his days as a toddler.
"I have pictures as a 3-year-old with a club, black-and-white pictures," he explained. "I played once when I was 10 years old but had a ball ricochet off a tree and hit me between the eyes, so I went back to baseball."
That is, until he was 14 years old. That's when, Dynda said, a bad umpire soured his taste for America's pastime and caused him to leave baseball for the greener pastures of golf. He played golf and football through high school and then went to Glenville State College in West Virginia.
He moved to the Philadelphia area in 1987 after graduation and entered the local PGA program, working at some of the finest clubs and playing with some of the finest players in Philadelphia.
Dynda picked up his first professional win in 1990 and in the coming years continued to improve his game and collect victories. He narrowly won the 1992 Pennsylvania Open, overtaking John Mazza at Fox Run Golf Club. He played in the finals of the U.S. Open qualifier in 1998 and 1999. He was then hired at Drexel in 2003.
The program has shown marked improvement in his 11 years at the helm, and this fall the Dragons stand to embark on an exceptional journey.
The season starts in a little over a month, at the Leo Keenan Invitational Sept. 14 and 15. Dynda said he's "pretty pumped" about starting the season at the tournament, hosted by St. Bonaventure University. The Dragons start their fall season at the Leo Keenan invite every year because Dynda grew up playing junior golf on that course.
The team finished fifth at the invitational last season. This year, Philadelphia's best golf pro and the Dragons will look to take home much more than a Top 5 finish.