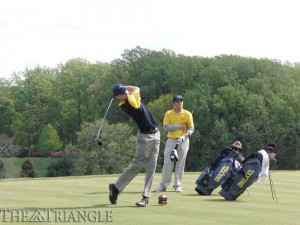 The final hole of this year's Colonial Athletic Association golf championship was a fitting epitaph to a weekend of eye-catching stroke play April 27-29. The University of North Carolina Wilmington's predicted domination was there for all to see from the opening tee, as the Seahawks raced into a dominant position that they held until the weekend came to a close, with all five UNCW golfers finishing under plus-16. The final drama of the day would belong to two golfers not wearing the spring green of the Seahawks.
Having fired an opening round of 72, followed by an improved round of 68, the University of Delaware's Greg Matthias arrived at the final hole looking to hold off the challenge of Georgia State University's Davin White, who had put together a blistering 72 on his second round to go with his opening-round 77 and put pressure on the clubhouse leader. White's strength on the back nine nearly saw him snatch the win as his weekend-best 69 beat out Matthias' 77.
The consistency of Matthias' game proved to be too much, however, as his overall score of 217 (plus-4) was enough to see off White (218, plus-5) by a single shot. Matthias' first win in what was to be his last outing as a collegiate golfer allowed him to take the CAA's automatic place in the upcoming NCAA Championships for the first time in his collegiate career.
Coming into the weekend looking to find some form, Drexel's own golfers gave a good account of themselves. Benjamin Feld's 20th-place finish in a field of 55 came off a solid 228 overall score (plus-15) that featured solid 73s on the second and third rounds. Vincent Anagnos was Drexel's next highest-place finisher with a 233 (plus-20) that netted him 37th place overall. James Braunsberg and James Parsons finished with scores of 238 (plus-25) and 241 (plus-28), respectively. Competing in his last event in Drexel's Blue and Gold, senior co-captain Michael Serensits put together a respectable 79, 78, 79 to finish out his weekend with a score of 236 (plus-23).
The weekend, though, belonged to a heavily favored UNCW outfit, whose combined score of 884 (plus-32) saw the Seahawks finish first overall, two strokes better than second-place Georgia State. The Seahawks were able to defend their title and earn the right to represent the CAA at the NCAA Men's Golf Regionals scheduled for May 17-19.
The conclusion to the weekend's festivities brought an end to a season that saw Drexel put in some decent performances. Top-10 finishes by Feld (first place at the Ace Club and the Philly U Golf Classic), Braunsberg (fourth at the Philly U Classic) and Serensits (10th at the Philly U Classic) mean that there is plenty of talent in the group with room for improvement looking forward to next year.