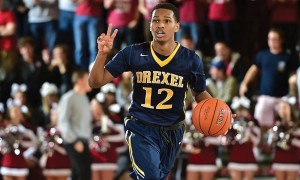 LeRoy Allen stood with his son on the floor, near center court, in the dim light of a gym just closed down.
He grinned a toothy smile and joked with Terrell Allen, who glanced at the floor and gave a small smile of his own, still soaking up every part of his eye-catching college debut.
The elder Allen tapped his son on the arm, and proceeded to imitate one of the younger Allen's 13 shots from the night, a pull-up in the lane.
It was just the start, and the start was a loss, but Drexel's next great hope seemed to appreciate, if only for a moment, what he had just done.
Head coach Bruiser Flint placed Allen, a freshman, into Drexel's starting lineup and rode him for 36 minutes in the Dragons' season opener Nov. 13, a one-point loss to St. Joseph's University that only felt close when Allen was in control of the game.
On top of scoring 18 points as a point guard, on top of nailing all three of his free throws and hitting a three-pointer to keep his team in range as the clock dwindled, Allen dished out four assists, snared four steals and only turned the ball over once.
A slightly under-sized guard in today's ultra-physical game, Allen said afterward that he wasn't taken aback by the pace or the physicality against the Hawks, and it showed. He felt the game out like a third-year starter, wisely tracking rebounds that would soar over out-of-position forwards and to pick up a pair of put-back layups. He kept up with the Hawks' transition game, racing down the court in a one-on-two, sealing the passing lane off and pick-pocketing the would-be shooter without being called for a foul.
Allen looked more at home than the majority of his occasionally sloppy, often out-muscled teammates in the first game of his career.
After a fast break led by Allen turned into a pair of free throws late in the second half, Kazembe Abif walked slowly from the defensive end to the Drexel huddle. A little too slowly for Allen's liking, apparently. The freshman waved his arms in a circle and beckoned the fifth-year senior into the huddle, as if he was Abif's equal, as if he'd been wearing Drexel's blue and yellow for half a decade like Abif has.
"In high school, I did that all the time, so that's just kind of second nature to me," Allen said after the game. He said it never even occurred to him to defer to an older player.
Flint is known to pump the brakes on big games by young players with the same press conference line each time. He did so with Sammy Mojica after a particularly impressive game last season; and Allen was no different.
"Don't anoint his ass," Flint said, giving a hearty chuckle.
But there was no way to downplay what Allen brought on the opening night. He brought composure to an offense desperately in need of direction; he brought facilitation to an offense that last season too often stagnated on key possessions.
And Flint knew what he had in the young point guard, so much so that he never even felt the need to inform Allen that he would be starting against St. Joe's. It went unspoken. It was a given.
"He's been playing like that throughout the whole time, playing like that in scrimmages," Flint said. "He's been real consistent with it."
It was just one game, and to draw conclusions from the first game of a 30-game college basketball season is to doom one's self to regrettable declarations. But in just one game, Allen flashed something for Drexel fans to be excited about, and he kept the Dragons close in a game many expected to be out of reach far before the buzzer. In a season replete with unknowns, the first of many discoveries looks for now, to be a pleasant surprise.