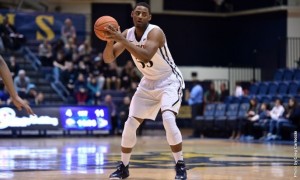 Tyshawn Myles emerged from the locker room with an uncontrollable grin on his face and a bottle of red Gatorade in his left hand.
Myles' voice was a little weak, but his game was just the opposite as he scored 11 points and 11 rebounds, both career-highs, to record his first-career double-double in the Drexel University men's basketball team's 66-62 win over the University of Delaware Jan. 17.
The freshman forward was sick all week, leading up to the showdown with the Blue Hens. Myles found out late the night of Jan. 11 that he had some flu-like symptoms, and for the majority of the week he wasn't able to do anything with the Drexel men's basketball team.
He played just three minutes in the team's loss to James Madison University on Jan. 15 after not practicing the two days beforehand.
But the Dragons are shorthanded, down to eight available men on game days, and so head coach James "Bruiser" Flint had little choice. He inserted Myles into the game at the 13:26 mark of the first half after fellow freshman forward Austin Williams committed his second foul of the game.
Myles entered the game against Delaware with 15 points and nine rebounds in 16 games. He had played more than 20 minutes just once, and never scored more than five points in a game.
Then he exploded.
He played 26 minutes, led the team with 11 rebounds, and was essentially unstoppable in his first game of truly extended action as a Dragon.
"I felt like it was just coming to me," Myles said, standing outside the visiting locker room of the Bob Carpenter Center after the game. "I went out there to do what the coaches asked me, which was rebound and defend. And then off of me just rebounding, the points were coming."
Rebounding was the true foundation of Myles' breakout game; of his 11 rebounds, six came on the offensive end, and eight of his 11 points came from offensive rebounds. It seemed as if the freshman was always in the right place, not necessarily out-muscling Delaware rebounders so much as always having the right positioning when it mattered.
"Today, I was just in the right spots," Myles explained. "Playing a little more minutes I got to do a little more, I got to rebound a little bit more, which transitioned to points."
As he continued to recover from the illness that hit him just six days before, Myles asked to come off the floor for a brief reprieve at one point in the second half. But when Williams committed his fifth and final foul, Myles' time on the bench was cut short.
Those few brief minutes, he said, were all he needed.
"I was a little tired; my coughing was out of control on the bench. I was cramping up a little bit," Myles said. "But I told myself, let me just get a little bit more rest and I'll get right back in the game. That's what I was telling myself."
Flint was glowing in his praise of Myles' play after the game, listing his freshman as the player he felt most showed up ready to play.
"Tyshawn Myles put up 11 points and 11 rebounds, and he had the flu all week," Flint said. "He hadn't been doing anything. He'd just been showing up to the games; he hadn't been giving me anything.
"So I told him, go back and get the flu tomorrow."
Flint and the assembled media laughed, but he was only half kidding. Myles played the best game of his young career, compiling a double-double he hopes he can build off as the Dragons head to Hofstra University (13-6, 4-2) Jan. 21 at 7:00 pm.
Turns out, Myles didn't even know he'd recorded that double-double until he came off the floor after the final buzzer sounded. He was too busy fighting that pesky cough.
"I didn't even know until they told me at the end, but it felt real good," Myles said with a laugh. "The pain didn't even matter at that point."