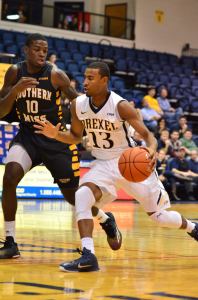 Eight minutes into the Drexel men's basketball team's 80-70 loss to the University at Buffalo, the State University of New York Dec. 16, freshman point guard Rashann London had six points on three of three shooting.
The rest of his teammates had yet to make a field goal on eight attempts.
London's productive start to the game kept a manageable molehill from becoming an insurmountable mountain. The freshman scored 10 points in the first half, tying his career high in just 18 minutes of action, by making all four of his shots from the floor and sinking a pair of free throw attempts. He finished the game with a career-high 17 points on nine shots.
Offensively, London's performance was eye opening. Just three days after scoring 10 points against La Salle University, the freshman reinforced the idea that he's a viable number two scoring option in a Drexel offense desperate for any kind of support scoring to help junior guard Damion Lee shoulder the load.
However, the young floor general's turnover problem continued to rear its ugly head against Buffalo as London committed four turnovers, making it an even 10 turnovers in his last two games.
Head coach James "Bruiser" Flint pinpointed London's six turnovers in the team's loss to La Salle as a reason for the Dragons' loss and after the freshman's second consecutive game with numerous giveaways, Flint didn't relent on calling London out on his downfall.
"[London]'s got to take care of the ball," Flint said bluntly after the loss.
"He had four turnovers. He can't have four turnovers and two assists. He's got to take care of the ball. And sometimes those turnovers were bad ones, you know? Really bad times of the game."
As a team, Drexel committed 15 turnovers and the Bulls scored 18 points off of those turnovers. From London's four turnovers, Buffalo scored five points, including a dunk with just under four minutes to play in the game that put the Bulls up by 14 points and essentially sealed the game.
"That was the thing that killed us in the first half," Flint explained. "They had 11 points off turnovers in the first half. Again, we gave up 18 points off turnovers in the game. We're just not going to win [that way]."
Flint did soften a little bit after a few comments, acknowledging the kind of game that his freshman had offensively.
"I understand he had a really good game, a good day of scoring," Flint admitted. "He's a freshman, he's going to learn, and hopefully he'll get better with [the turnovers]."
As a freshman who was thrust into the starting role because of an injury to sophomore point guard Major Canady, London has handled being unexpectedly tossed into the fire relatively well, averaging 5.7 points per game.
In the last two games, while London has seen his minutes per game jump by nearly five minutes and his scoring jump by nearly eight points per game, he has also committed 10 turnovers in the two outings. The freshman committed just 12 turnovers in the first seven games of his career.
London is a young player, still finding his feet with his teammates and feeling out college ball. With a recently expanded role in the Dragons' offense, the turnovers were expected.
In the next few games before conference play, London's coaches will be looking for him to start keeping the turnovers in check. It starts Dec. 20 against The Pennsylvania State University, a team that has forced opponents into 12.5 turnovers per game.