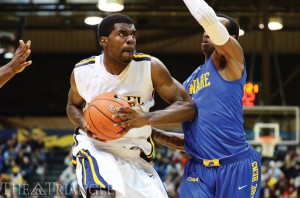 The Drexel University men's basketball team is in a stage of rebuilding and identity-finding, after falling to The College of William & Mary Jan. 25 before topping Hofstra University Jan. 29.
Saturday's Homecoming game was going Drexel's way until midway through the second half, when the visitors began to reclaim their touch. The game turned into a seesaw contest that remained up for grabs until William & Mary junior guard Marcus Thornton drilled a 23-foot shot as time expired to give the Tribe the 68-66 victory.
Wednesday night, the Dragons traveled to Hempstead, N.Y., to take on Hofstra, another team still grasping for its true identity within the Colonial Athletic Association. The Dragons used a brilliant performance from senior guard Frantz Massenat to win their third conference game of the season, 77-74.
Massenat finished the night with a career-high 32 points, while adding nine assists with zero turnovers. It was quite possibly the best statistical game of his four-year career with Drexel.
His head coach took notice.
"He was unbelievable tonight," James "Bruiser" Flint told reporters after the game. "We needed every point and every assist that he gave us. Defensively he played well, offensively he played well, and we needed every minute of it."
Yet, despite Massenat's superb output, the Pride fought back in the second half, shooting 50 percent, making 13 foul shots and outrebounding the Dragons 21-16.
First-year head coach Joe Mihalich must have lit a fire under his players at halftime, especially transfer swingman Zeke Upshaw, who notched 17 points in the second 20 minutes.
"They were on fire to start the second half," Flint said of Hofstra's impressive comeback attempt. "We came back, we made some big plays to get back in it. We trapped them a little, which forced some turnovers and gave us some opportunities; we just fought back."
Despite how impressed he was with the scoring performance of his two leading guards —
Massenat and sixth-year shooting guard Chris Fouch combined for 51 of the Dragons' 77 points — Flint acknowledged after the game that this team is nowhere near its potential. And, in order to advance out of the surprisingly deep and competitive conference, the Dragons will need to keep progressing towards that potential.
"We're still not healthy enough to come in and win [the CAA]," Flint said. "We need to get healthy. Our third leading scorer is banged up and couldn't really give us anything. We don't have a ton of weapons, especially when one of our better offensive guys isn't 100 percent and can't really play."
He's right. When you look at top-of-the-league teams like the University of Delaware and Towson University, their scoring depth and talent level stands a head above this depleted Drexel team.
The good news is that the Dragons still have more than a month to heal up and prepare for the CAA Tournament, which starts March 7.
But games versus lesser opponents will start to matter — and become must-win games — as the team advances through an easier section of its schedule. If the Dragons wish to avoid facing higher seeds like Delaware and Towson until deeper into the conference tournament, they need to begin to pile up the conference wins.
That's why Wednesday's win over Hofstra was a big victory for the Dragons. Saturday's loss to the Tribe, on the other hand, was definitely hard to swallow.
In forward Kazembe Abif's first game back from injury, Drexel dictated play for the first 20 minutes of the contest and took a 38-29 lead into halftime.
But the Tribe hit 4-8 three-point attempts in the second half and benefitted from 15 second-half free throw attempts compared to Drexel's three, a major point of contention in Flint's postgame press conference.
"They just didn't get called for fouls," the head coach said after the game, clearly frustrated with the way the foul situation shook out. "Forget the fouls on the drives, I felt coming off of the screens they had their hands wrapped around us. They didn't call that; we didn't get those calls today."
"We shot seven foul shots and didn't shoot a foul shot from the 11-minute mark," he continued. "All we did was drive. I'm just going to make my point there."
It's essentially an indomitable point. William & Mary attempted nine free throws in the final 11 minutes of Saturday's game, while Drexel attempted zero. The Tribe attempted eight of its 25 second-half shots at least 20 feet from the hoop, while the Dragons attempted just four of their 29 second-half field goals from such a distance.
Simply put: the closer to the hoop, the higher the probability of a foul being committed due to body concentration, except — it seemed to Flint and the Dragons — on Saturday.
But the head coach refused to place the blame for the loss squarely on the referees. In the end, Marcus Thornton made a beautiful shot to win the game, and Flint wouldn't take that away from him.
"Thornton is one of the best players in the league, he's been one of the leading scorers since he got there," Flint said about the Tribe's hero. "Guys in this league know he can play. He scored the ball and you have to give him credit, he's a good player.
"The guy hit a bomb three. What can you do? Give him credit, he made it. He didn't even drive it to the basket, just took a couple dribbles, stepped off and shot it."
The Dragons look to string together back-to-back wins for the first time since mid-December in Towson Feb. 1. The game tips off at 4:30 p.m. and will be televised nationally on NBC Sports Network.