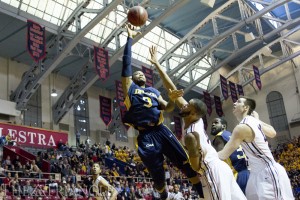 As Drexel students, we know that our school operates differently from other colleges around the country. We operate on the quarter system instead of a semester system, many of us have full-time jobs as early as sophomore year, and classes run year-round.
This year, add another oddity to the Drexel list: The men's basketball team has a player in his sixth year at school. And it's totally legitimate.
The story of Chris Fouch, a starting guard and three-point specialist for the Dragons, has seen its fair share of intrigue over the years. He began his career as a Dragon with a season-ending knee injury before the 2008-09 season even began, forcing him to sit out his entire freshman season — but preserving his first year of eligibility.
He still had four years left to play. Because he was a Drexel student, having four years left after his freshman year wasn't even out of the norm.
Over the next three seasons, Fouch established himself as a steady player and an elite marksman from behind the arc.
During his first year of play, he was named the Colonial Athletic Association Rookie of the Year, the first in school history. He led all CAA freshmen — or, in his case, "freshmen" — in scoring and finished second on his team with 11.3 points per game. He followed that campaign by leading the Dragons in scoring the next year and putting up double digits per game again in the next.
But in 2012-13, as most know, Fouch suffered an unfortunate injury just two and a half games into what was supposed to be his final season as a Dragon. After averaging 16.7 points per game in the first two games of the season, Fouch broke his ankle against the University of Pennsylvania and was lost for the season. Was the storied career of Chris Fouch, career-long Drexel Dragon, going to end in a cast?
"I felt like I couldn't catch a break," Fouch said. "I was trying to stay positive, but when I found out I was going to miss the whole season I just couldn't believe it."
Unfortunately, he would have to believe it. The Dragons went the rest of the season without their elder statesman on the floor, and it showed. Drexel's offense sputtered at many points during the year. The offensive load proved to be too much for Frantz Massenat and Damion Lee, the other 67 percent of what was supposed to be a three-headed guard attack.
Watching his team fail wasn't something Fouch enjoyed.
"It was bad because I just wanted to get out there and help however I could," Fouch said of last season. "It was real tough seeing as I'd had a good first few games, and I just wanted to help them but I couldn't."
And while he suffered a similarly frustrating fate during his first year at Drexel back in 2008, he said last year was a completely different kind of problem.
"It was a lot different because I was one of the seniors on the team and my role was way bigger," Fouch said. "It was harder to deal with not being able to help the team."
Alas, there was nothing the New York native could do but watch from the sidelines and hope that the NCAA would take mercy.
There was confidence in the Daskalakis Athletic Center after the season ended that Fouch would be granted a sixth year of eligibility. At the end of March, Dragons head coach James "Bruiser" Flint gave an interview with MidMajorMadness.com in which he told the site that he and his staff didn't think it would be a problem.
On April 15, his premonitions were confirmed; Fouch would be able to play one last season in Blue and Gold as a grad student.
Thankfully, Fouch had begun rehabbing his ankle long before the ruling. He wanted to be ready with ample time in case he was allowed to play again.
"I was trying to stay conditioned on the bike, with band work on the ankles, toe rises, balance boards, every day," Fouch said of his rehab regimen. "One day we focused on the balance, the next it was strength. It was really intense, but it worked.
"I felt 100 percent probably two months ago; it felt good to be back out there doing what I do best, just shooting and being out there with the team."
Of course, as with any injury, there is a prevailing worry about reinjury, especially in the early going when trying to begin the comeback process.
"I thought about [the injury] a lot when I first started up again [this summer] playing pickup games, but I try to tell myself it's part of the process healing from injuries," Fouch said. "I've been through this once before, so I just have to not think about it too much. I want to be able to play at a high level all year."
If Fouch can match the high level he was playing at before he injured his ankle last season, the team will have the best guard trio in the conference, at least on paper. Fouch's presence puts Drexel in a good position to win every time he hits the court.
But he doesn't want to lead just with his three ball or shooting percentage. It's time to leave everything he possesses on the hardwood, vocal cords included.
"I expect to be a more vocal leader for the team," Fouch said. "I know it's my last go-around no matter what. We want to make it special for everybody associated with the program. I expect us to be one of the best teams in the league, and the goal like it's been the last few years is to win a championship."
Ending a story as winding and full of continued determination with anything besides a championship would seem incomplete. Fouch has given five years of his talented, selfless basketball career to Drexel, and he wants to bring a trophy home to the DAC in his sixth.
To him it only seems right.
"My earliest memory of Drexel is the good vibes that I got around campus and with my teammates from day 1," Fouch said. "It's been like family ever since I got here, through the ups and downs, from top to bottom with coaches. It's been nothing but love."
There's not much more you can ask for in a career than love, family and basketball. But something tells me that Fouch would make room for a trophy, too.