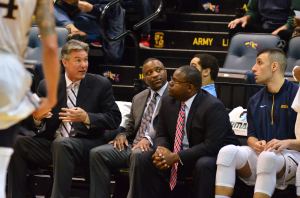 The Drexel men's basketball team is playing shorthanded this season, and now it looks like the losses may have already begun for next year's team.
Forward Kazembe Abif's status for the 2015-16 season is uncertain after it was learned Jan. 5 that Abif is officially "no longer with the team" and has been designated as such since the season began in early November.
An official for the school was uncertain about Abif's status for next year, declining to say whether the Elizabeth, N.J., native would play next season. Abif is still attending the school and taking classes as a student.
Abif was slated to miss the entire season after he suffered a torn anterior cruciate ligament in his right knee in mid-April. The assumption was that Abif would seek to redshirt this season with a medical redshirt, as junior guard Damion Lee did last season when he suffered the same injury.
However, Abif has not sat with the team's other injured players on the bench at any time this season and is no longer listed as a member of the team on the team's roster page on Drexel's athletics website.
Abif missed eight games at the end of the 2013-14 season with a broken wrist, as well as one game in late November 2013 because of a concussion.
He was expected to return as a part of the Dragons' starting lineup in the fall of 2015 alongside forward Rodney Williams, who is currently out with a stress fracture in his right foot.