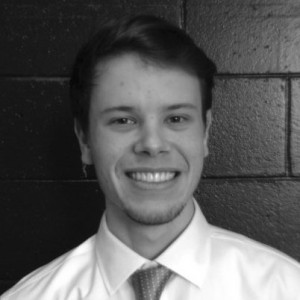 I don't remember why I first approached The Triangle, but reflecting on the past two and a half years, I'm glad I went to the first meeting of the fall term back in September 2011.
During that meeting I met sports editor Alex Falk, and the following week I was given an assignment to cover the Drexel men's soccer team. At the time, they were just not good at all, but I fell in love with them just the same.
The first game I attended was a win, and I went on the field to get postgame quotes from head coach Doug Hess to put in my article. After the men's soccer team wrapped up its season with a few strong results against tough opponents in the Colonial Athletic Association, my article was featured above the fold on the sports page. I was so pumped and so proud of myself; I was hooked.
In the next few weeks, I was given some more challenging assignments — a feature on former men's basketball player Derrick Thomas and a story about the club men's ice hockey team winning their conference tournament. Julia Fisher, who was now sports editor, was able to trust me more and more as I kept on submitting quality work.
Julia was then scheduled to leave before the fall, with John Chagaris (who had previously been assistant sports editor) ready to take over the role of sports editor. Julia asked me if I wanted to become his assistant, and I said yes. Through about six months of being assistant sports editor, I became first in line to replace John.
When I took over as sports editor in June 2013, my main goal was to have fun and push my writers to do the same. I wanted to make sure that they were trying new things and trying to become better writers, just as I had done when I first started. At such a small-scale sports section, it's important to realize that, first and foremost, we have the freedom to be different.
We don't have to cover Drexel sports if we don't want to, we don't have to conform to boring writing styles if we don't want to, and we don't have to put forth a lame page design if we don't want to. In terms of all of those things and more, I just wanted to have fun, be creative and enjoy the ride during my time as sports editor.
Now that I've graduated, I can look back at the work I have done for The Triangle and be extremely proud. I have written 67 articles, produced 10 podcasts and sent over 400 tweets from @SportsTriangle. But most of all, I have learned a lot about myself as a leader, an innovator and a hard-working person. Being the sports editor is almost like a full-time job, and I'm proud of the way I have been able to get past the challenges to make my experience a success.
I encourage anybody to get involved with The Triangle because it teaches a lot of important things. Even if you don't become the editor of a section, as a writer it takes time management skills to be able to work for a deadline, creativity to write articles that don't put the reader to sleep,[CE1]  and commitment to a cause outside of what is required by a normal school experience. Plus, you get to know a whole new group of people; in my case, they have become like a family to me.
A big thank you and good luck goes out to all 10 of my sports writers who contributed during my time at the helm: Mike Angelina, Joseph Baider, Billy Bauer, Nick Grinups, Adam Hermann, Howard Hutchinson, Nebi Mema, Brian Palmer, Kevin Rossi and Steve Winfield. You guys were amazingly consistent and should be extremely proud of everything you have done for The Triangle.
Also, thanks go out to editors-in-chief Anne Most and Sandra Petri, who were able to deal with my stubborn attitude (for the most part). Finally, a thank you goes out to the entire Triangle staff for being great, motivated and kind people who made it such a fun experience.