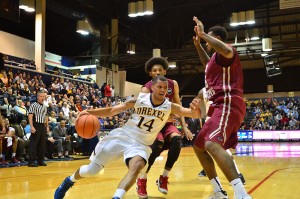 Former Drexel University shooting guard Damion Lee announced he has committed to play his final year of college basketball at the University of Louisville Thursday morning.
Lee, who received his release from Drexel in the first week of April, will play for vaunted head coach Rick Pitino as a member of the Cardinals in the 2015-16 season.
During his visit to the Louisville campus April 19 and 20, Lee told Scout.com's Evan Daniels, he was impressed by Pitino, the program and the environment. He also shot around with incoming Cleveland State transfer Trey Lewis.
"The guards are reset and the bigs they have are guys that are 6-9, 6-10 and 7-foot, and that's just speaking from a basketball standpoint," Lee told Daniels. "They run pro sets with a Hall of Fame coach. After basketball there's a community. Louisville is the pro team there. When I was there it was amazing."
Lee averaged 21.4 points per game in 27 games for the Dragons during the 2014-15 season, playing 38.1 minutes per game. He led the Colonial Athletic Association in scoring and was named First-Team All-CAA.
Lee's season ended when he suffered a broken hand Feb. 21 against Northeastern University.
He walks away from the Drexel program with the 10th-most points in school history at 1,538.