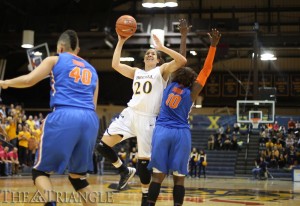 There is something special about the last memory of your college basketball career being cutting down the nets after winning the Women's National Invitation Tournament championship that makes you never want to leave. For former Drexel women's basketball player Taylor Wootton, leaving Drexel was just not an option.
After all, why would she want to leave? She became the 16th player in Drexel history to reach 1,000 career points and appeared in her school-record 131st game in the team's WNIT championship victory over The University of Utah, which was the first national women's basketball title ever won by a school in Philadelphia. Her 12 points and 4.7 rebounds per game last season earned her Third-Team All-CAA honors.
The magical run to the championship as a senior was too much to leave behind. Beginning with the upcoming 2013-14 season, Wootton will stay with her Drexel family and serve as the coordinator of women's basketball operations.
"I love Drexel; the athletic department is like a big family," the 6-foot-1-inch Wootton said. "Everybody knows everybody, and I really wanted to stay [here]."
Her position entails lots of hard work in a variety of areas, none of which are filled with the fame and glory that you may expect from a coaching role at an NCAA Division-I institution. It will be a little bit of everything for Wootton, including tasks like taping the Dragons' practices and games, cutting and editing film for players to study, getting film from opposing teams, organizing trips and food arrangements, and sending recruiting letters.
The hard work does not bother her, though, as Wootton has her eyes on a much larger prize.
"It's just the first step," she said. "Coaching is what I really want to do."
Serving in a basketball operations role is a stepping stone into the coaching profession. Last summer, the Drexel men's basketball team promoted its operations assistant, Bobby Jordan, to assistant coach after two seasons. Similar to Wootton, Jordan had also played four seasons with the Dragons.
Just as Jordan had played under and now coaches with men's basketball head coach James "Bruiser" Flint, Wootton will work with the same head coach whom she played under. Denise Dillon has led Drexel's women's basketball program to heights previously unseen, and Wootton is excited for the opportunity to learn under her tutelage.
"I wouldn't want to be under any other coach," Wootton said. "I loved playing for her and all of the other coaches. They are great coaches on and off the court, and I wouldn't want to be anywhere else but Drexel right now."
For Wootton, there is no better coach to learn under. Dillon has deep basketball roots in the Philadelphia area, having played at Villanova for four years in the mid-1990s before jumping right into a coaching career of her own. She has now spent a dozen years at Drexel as either an assistant or the head coach, building the Dragons' program into one with national success.
In a news release from Drexel's athletic department, Dillon said of Wootton, "As a player, she was always an extension of the coaching staff on the court, with her knowledge of the game and strong leadership qualities. Her transition from player to colleague will bring a strong addition to our staff."
That transition from player to staff is one that Wootton describes as "a little weird."
"It's a little different on the [coaching] side because you were friends with the players last year, but now you're on the professional side of them," Wootton said. "I just need to get used to that part, and hopefully I can still help bring success to the program."
Her youth, though, could end up being a benefit as she begins her journey through the college coaching ranks. Just last year, Wootton was feeling exactly what this year's new crop of players is feeling.
"I haven't been out of school for more than two or three months now, so I really know what they are going through," Wootton, who graduated with her bachelor's degree in sport management this past June, noted. "Hopefully they will look up to me because I was in their shoes not too long ago."
Preparing for her new position, Wootton said she credits her role as the team's captain last year as having a major impact.
"We had to tell the girls what we have to do as a team and make sure they do it, and I think the coaching is the same way," Wootton said of transitioning from one leadership role to another. "You have to tell your players what to do, and hopefully they accomplish that and do what they are told."
From leading on the court to leading on the sidelines, Wootton will continue to be a valuable asset for Dillon. The opportunity to join the women's basketball coaching staff means that Wootton can make sure that the success she brought to the program continues.
Joining the coaching staff also means that Wootton is not leaving Drexel. And for the former player who bleeds Blue and Gold and has won on one of college basketball's biggest stages, why would she ever want to leave?