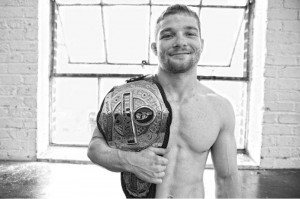 Zach Makovsky has been the undersized underdog for most of his life, but like any true fighter, he loves every aspect of a challenge. The 5-foot-4-inch Makovsky goes by the nickname "Fun Size." Don't let his size fool you, though; he packs a very powerful punch and an exciting fighting style.
Makovsky has been a professional fighter since 2006 and currently holds a professional mixed martial arts record of 15 wins and four losses. However, his first encounter with the contact sport came when he was just 6 years old and weighed a whopping 48 pounds.
Makovsky was a solid youth and middle school wrestler out of Bethlehem, Pa. He then attended Bethlehem Catholic High School, where he never felt like he reached his full potential.
"I definitely didn't have a stellar high school career; I would say I never took training too seriously until I got to college," Makovsky said.
Although he never qualified for the Pennsylvania state tournament in high school, Makovsky's love for competition made him want to try his hand in Division I college wrestling.
"I was invited to walk on the team at Drexel University, [where] the level of the competition and training jumped dramatically," Makovsky said. "If I was going to keep up, I had to make some real changes."
"Fun Size" improved his record each year he was at Drexel, even placing at the Colonial Athletic Association Tournament.
"I ended up progressing a lot," Makovsky said. "Even though I fell short of my ultimate goal of competing in the NCAA Division I National Tournament, I had some success, amassing 70-plus [career] wins and being captain my senior year."
Makovsky was always intrigued by boxing and MMA. He first found his love by watching any MMA event he could.
"I discovered MMA by renting videos of early [Ultimate Fighting Championship] events and PrideFC events," Makovsky said.
Then, when he came to Drexel, he found a place to keep in shape and practice his passion during the offseason.
"When I moved to Philadelphia for school, I quickly found the Philadelphia Fight Factory and began training there after wrestling season of my freshman year," Makovsky said.
After graduation, "Fun Size" had his professional debut when he won his first fight by unanimous decision. He would go on to win his next fight as well, before he took on his first highly regarded opponent.
"I fought in New Jersey for a promotion called 'Combat in the Cage,'" Makovsky explained. "After I won my first two fights, I then fought for their bantamweight title, defeating world Brazilian jiu-jitsu champion Emerson Souza for the belt."
After beating Souza, Makovsky was getting more respect by bigger promotions. He received a shot to fight Wilson Reis, who was the champion of EliteXC. Makovsky lost the fight by submission but was able to rebound with three straight wins after that.
"Fun Size" then went out of his comfort zone and moved up a weight class to 145 pounds to fight in Tokyo. Even though Makovsky lost to a bigger opponent, it was a learning experience and he was able to rebound just like after his previous loss.
"Fighting in Tokyo, Japan, was a great experience," he said. "I returned to fight in New Jersey on a local show and then for M-1 and won both of those fights."
Makovsky, then with a record of eight wins and two loses, got his first fight with one of the biggest MMA promotions, Bellator.
"Fun Size" won his first fight in Bellator, which qualified him for the first-ever Bellator Bantamweight Tournament. This was an eight-man single-elimination tournament.
"Bellator was the first promotion I got to really fight on a worldwide stage and have my fights televised," Makovsky said.
Makovsky would win his next two fights, which put him in line to fight for the Bellator Bantamweight Championship against Ed West. He dominated the fight from the start and won the title by unanimous decision. He would go on to win two more fights as the bantamweight champion before hitting a tough stretch of opponents.
"Fun Size" eventually lost his belt to Eduardo Dantas, one of the most talented bantamweights in the world. He then lost another fight in December 2012 by a close decision. With back-to-back losses, Makovsky was then released by the promotion that once called him champion.
Makovsky was always a smaller fighter at the 135-pound bantamweight class, and he never had to cut a lot of weight for a fight. After fighting two much larger opponents, he decided to cut down to flyweight, which is 125 pounds, to give himself another chance to become a champion once again.
"I walk around at about 145 pounds, and the last three guys I fought at bantamweight walk around over 165," Makovsky said. "I just felt that the sport was evolving and everyone was getting better and more scientific about cutting weight. If I wanted to compete at the highest levels, I had to evolve as well."
The weight cut was something that Makovsky always planned to do, but Bellator did not have a flyweight division. After being released, Makovsky was quickly picked up by Cage Fury Fighting Championships. He made his CFFC and flyweight debut in May and defeated Claudio Ledesma.
The plan is now for "Fun Size" to take on CFFC champion Sean Santella, who is highly ranked in the flyweight division. Makovsky hopes to be able to fight the defending champion within the next two months. He has a few more goals before he even thinks about taking the gloves off.
"I am getting older and don't know how much longer I have to compete," Makovsky said. "I am doing everything I can to work my way to the UFC to compete in their flyweight division, [and] I think I will be there soon."
And with those sentiments, Makovsky will take on his next professional challenge with the determination and graciousness that made him a champion once before.