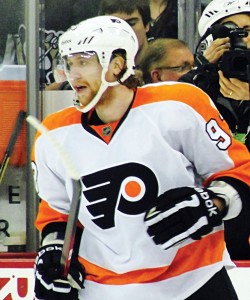 At the beginning of the season, things were looking bleak for the Philadelphia Flyers. Like many of the other teams in Philadelphia, they were losing more games than they were winning. The lack of good sports teams in the city left Philadelphia sports fans with little to hope for and endless frustration as they watched all of Philly's sports programs lose game after game.
However, unlike the unlikely 76ers team, who is in absolute last place in the Eastern Conference, and an Eagles squad that's already out for the season and doesn't even have a head coach, the Flyers seem like they might be turning things around to give Philadelphia fans a taste of hope.
As of right now, they have regained a victory ratio above 50 percent at 19-15. They have also won the past four games in a row, starting their longest streak of the season thus far.
Most recently, the Flyers defeated the Boston Bruins 3-2 at the Wells Fargo Center Jan. 13, thanks to Wayne Simmonds, Mark Streit and Jakub Voracek. Going into the third period, the Flyers were trailing the Bruins, 2-1. However, the Flyers scored goals less than two minutes apart in the third period to grab the comeback win.
Voracek's goal marked the 400th goal in his National Hockey League career.
Even if you're not a hockey fan, it's nice to have a team to root for. Some sports fanatics from the likes of ESPN are even considering the possibility of a playoff berth for the Fly Guys. While that might be getting ahead of ourselves a little bit, it's a really nice idea.
I guess what I'm trying to say is let's not get our hopes up, but if you're longing for a win in the city of Brotherly Love, the Flyers might be your go-to team, at least for the time being.