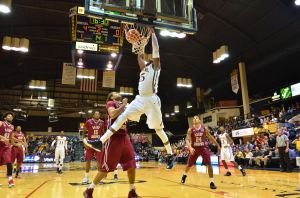 NEWARK, Del. — Just two days after the worst offensive game of head coach James "Bruiser" Flint's career, the Drexel University men's basketball team acted like the Jan. 15 debacle was a mirage. It was a speed bump, a mark on the ledger not indicative of the greater picture.
The Dragons (4-13, 2-3) equaled their point total from the loss to James Madison, 35, in the first half of the Dragons' 66-62 win over the University of Delaware Jan. 17 in Newark, Delaware.
Flint's offense came out roaring in the first half, jumping to an 8-2 lead in the first few minutes of the game behind a pair of three-pointers from guards Damion Lee and Tavon Allen. Instead of squandering the lead like they did against James Madison University, the Dragons kept the pace up for the entire first half, shooting 50 percent from the floor in the first stanza.
Lee and his teammates moved the ball well and looked like an entirely different team than the one that took Sam Cozen Court less than 48 hours earlier.
After the game, Lee said the team was determined to move on from Jan. 15 and keep playing their game.
"It was really the same thing," Lee said of the way Drexel played, comparing the Dragons' effort to their efforts against Towson University and University of North Carolina at Wilmington the week before.
Lee explained that the Dragons have established a sort of motto, a creed to keep on a steady path as the season marches on. "Our blueprint is to play with unbelievable effort, play with toughness and play with poise," Lee explained.
The junior said he felt like the team had gotten away from their self-imposed blueprint in the loss to James Madison, so the Dragons knew they "had to come out with unbelievable effort" against the Blue Hens.
"We played with effort, dove for loose balls, I think we out-rebounded them in the first half," Lee explained. "But really, everyone just created for each other and everyone knocked down some shots, and we got a lead."
Flint, who is playing with just eight players because of the laundry list of injuries he's been dealing with this season, said he felt like his players finally took advantage of something that's been in front of them all season long.
Lee, the Colonial Athletic Association's highest scorer, entered the game averaging over 20 points per game. Opposing teams understand that, Flint said, and they'll gladly double-cover Lee, which will leave other players open.
When that happens, Flint explained, he needs his players to capitalize on open looks. Against Delaware, they made shots count when they had to.
"Today we just were better," Flint said. "One of the things we talked about, we didn't do much — I wouldn't say we didn't do much, we got ready for the game — but the biggest thing was you've got to be ready to make a play when it comes to you. It's as simple as that. Ball comes to you? Be ready to make a play. Don't stand 50 feet from the basket. Be aggressive.
"We had some guys make some big plays. [Forward Tyshawn Myles] came to play. I thought [guard] Sammy [Mojica Jr.], even though he didn't have a lot of points, I thought he made some big baskets just because he was ready to turn the corner. [Guard] Rashann [London] made a big three. Why? Because, dude, you can't just catch it and drive. Be ready to shoot the ball."
Flint has a reputation for being a fiery coach on the court, and he acknowledged with a laugh after the game that he certainly earns it. But, he explained, he swears the majority of that yelling comes when his players don't take open shots.
Lee, sitting to his left, couldn't contain a giggle at that, before nodding in agreement.
"Honestly, I've been trying to talk to them about this all year," Flint said. "We've been having problems scoring in the games because guys are not ready. The younger guys think they're still in high school; they think they're going to drive and run into somebody, and the ref's going to call a foul.
"Shoot balls when you're open, because you're going to be open on this team."
The Dragons finished the game 22-of-49 from the field, including five-of-14 from deep. Three players scored at least 11 points, and five hit at least three shots. When the chances were there for the Dragons, no matter who it was, they knocked down shots that were there.
All it took for Drexel to get over a terrible night of shooting, it turns out, was to keep shooting.