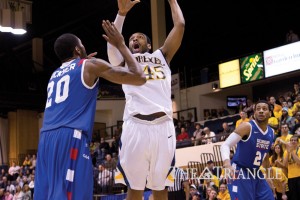 After winning a program-record 29 games, including 19 straight at one point, making it all the way to the quarterfinals of the National Invitation Tournament after the emotional roller coaster that is the NCAA Tournament selection process, head coach Bruiser Flint and his team were simply exhausted. Who could blame them after the outstanding season they had?
Fitting to the exhaustive end to the season was the final game in the NIT quarters against Flint's former employer, the University of Massachusetts. The Dragons jumped out to a commanding lead in the first half but simply succumbed to exhaustion in the second half.
"That's how [UMass has] played pretty much all year, where they get down and then they sort of wear you down, and next thing you know, they're two or three points behind," Flint said.
After getting into severe foul trouble, Drexel, whose lead was extended to 17 at one point, allowed UMass to chip away slowly but surely.
In what has been a recurring theme this season, the Dragons again had a monstrous victory within grasp, only to end up trailing by two with the chance to force overtime. With seconds remaining, Frantz Massenat drove to the basket, executing a play drawn up by Flint seconds earlier. The ball rolled around on the rim, being tipped back and forth by several Drexel players, including Samme Givens, for what seemed like a lifetime.
The ball rimmed out.
And just like that, the Dragons' dream season, and Givens' illustrious career in Philadelphia, was over.
"One thing about this game is, when you lose, that's it," Flint said. "And then you lose a game like this, and you're like, 'Oh, wow,' and we had a chance to go to New York City."
Givens also touched on his final game in the Blue and Gold.
"[The last shot against UMass] was a little heartbreaking; I thought it was going to go in," Givens said. "But that's how the game goes. You get some rolls, and you don't [get others]. It's little unfortunate, but I'm just glad we went out not getting blowout or getting outworked. We played hard and we fought back; we fought to stay in the game, so you can't get mad at our work ethic."
Givens continued to say that even with the loss, he is disappointed in nothing. Did he want to go to New York to play for the NIT title? Of course. Even more so, does he wish that they had a chance to play for a national championship in the recently completed NCAA Tournament? You bet. But, above all, Givens stressed that he is proud of his teammates and his time as a Dragon.
"If it's not a win, then you go out fighting," he said. "I'm proud of my team. Everybody played hard, and we fought. It was a nail-biter, down to the last shot."
Givens talked about the preparation for this season and how it wasn't always peaches and cream in a Dragon uniform. He went on to say that his first couple years at Drexel were "a struggle," but his last two made it all worthwhile.
"The guys I was around, like Gerald Colds and Yannick Formbor, they really took it upon themselves to say, 'Let's get better; we want to make our [last] year special,'" Givens said. "They taught me that my junior year. So this past summer, everybody was getting in the gym early, and their games would pick up, and you knew this year was going to be a particularly good year, and that's what you want for your senior year."
Once Givens' head coach had a chance to gather his thoughts during the postgame press conference, Flint chose to comment on the loss of his lone senior.
"When I won the coach of the year, I said, 'I want to thank my senior, Samme Givens, because he just let me coach this year,' and a lot of coaches actually came up to me and said, 'Yo, man, I got what you were saying,'" Flint said. "He was an unbelievable senior, so all I had to do was come and give instruction — I hollered and cussed and screamed — but I didn't have to worry about anything else."
"As a person, Samme is one of the best kids I've ever been around. He'll be the guy that everybody talks about because everybody likes him. His stats will speak for himself. I told him that he won't realize until he gets to my age and brags about his game like I do what he's really done as a player. But as a person, as a kid, he's been unbelievable — unbelievable."
Givens finished his career with over 1,200 points and over 1,000 rebounds, making him one of the greatest players in Drexel history. But more than that, he was the lone senior and the leader of one of the greats teams in school history. Throughout the press conference, you could not help but hear the admiration in Flint's voice when talking about Givens.
"If we only lose one guy, we had a hell of a guy to lose, and not just because he gave me a lot of points and a lot of rebounds," Flint said. "It's because he was a pleasure to coach. You have good players sometimes. You can't wait until they leave, but this one right here, I'll tell some Samme stories. Forget his basketball; as a kid I think [he's] one of the best ones ever, and I think the people at the University will tell you that too."
I'm sure future players will learn a ton from Bruiser's "Samme Stories," just as we all have learned that no matter the size of the star, the right amount of practice and effort can make a 6-foot-4-inch forward shine bright.