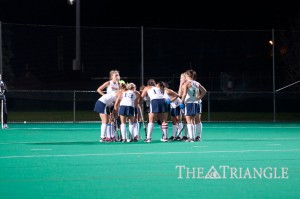 The Drexel women's field hockey team huddles together during a home game on the Buckley Turf. The Dragons finished 10-9 overall and 3-5 in the CAA, as they were unable to qualify for the postseason.
Measuring the success of any season can be difficult. Some say that if the team doesn't win the final game, the championship, then the season can be forgotten.
For the Drexel field hockey team, this is not the case. The success of the season is measured by how well the team handled losing top scoring threats from the previous year, how the team managed to acclimate 10 new players, including eight freshman or how the squad adapted to playing in front of a brand-new goalkeeper.
The success of this season for the Dragons must be measured not by the final record (10-9, 3-5 Colonial Athletic Association) but by how much the team grew from day one until the final whistle sounded.
"The season was exciting from start to finish — so many close games," Head Coach Denise Zelenak said. "Some of my favorite wins were Temple, Louisville and JMU's double-overtime taking the win in strokes.
"It's hard to say lows because so many of our losses were well-fought, close games, having three losses within one goal against top-ranked teams like Cal-Berkley, Northeastern and No. 1 ODU."
The Dragons played in a number of close games throughout the year, losing eight of nine games by only one or two goals.
While they started the season 7-3, the strength of schedule seemed to wear on them.
"This is the most difficult schedule that we have ever had during my time at Drexel, and with such a young team, we were really proud of how well we performed overall," Zelenak said.
Getting new faces on the team to become forces on the field can be pointed to as one of the finest achievements of Drexel's field hockey team.
"We were two halves of a team before, upperclassmen and freshman," senior Monica Baick said. "As the season went on, we became a whole team and everyone knew they could count on the person standing next to them regardless of age or experience."
Junior standout Amanda Fleischut also took pride in how the team responded to losing so many key players.
"I am really proud of how we handled being a very young team this season. It's not always an easy thing for a team to go through, especially after losing a big senior class."
The Dragons did not finish the season how they would have liked to. With four consecutive losses against four very worthy adversaries, Drexel narrowly missed a trip to the CAA Tournament.
"No one likes to lose, thus it was really tough for the team, as well as the coaches, to know we were so close to achieving our end-of-the-season goals," Zelenak said.
With that being said, Zelenak is still proud of how her team performed and hopes the lessons learned will benefit them next season and in seasons to come.
"We can improve our passing and focus on playing a full 70 minutes of good hockey," sophomore Kristen Focht said. "Most importantly, we just need to be confident in our abilities and our talent as a team. We can do a better job of staying composed and confident that we will find a way to win."
The future looks promising for this squad, and next season you can expect them to be back with a vengeance. Despite how the season ended, the leadership and talent are in place. One thing this team will not fail to do is work hard.
"We had to overcome a lot of obstacles this season, but we faced every challenge head on," Focht said. "Even though the season didn't end the way we would have liked, we never stopped playing hard."