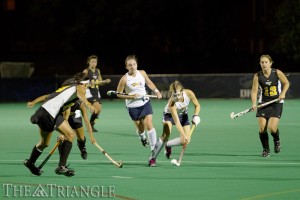 Home-field advantage is a very hard thing to describe. It is exemplified in many different ways and many different sports.
The setting — the No. 20 team in the nation is on your turf, and according to the NCAA's coaches, this team is better than yours. Suddenly, one of your teammates scoots free on a breakaway and takes the shot. It bounces a few times and makes its way to your stick. You put it in the back of the net, you score, and your team is well on its way to what is considered an upset, but not to you. You believe you are the better team because you have something they don't — your own turf at your school.
That is what went through the mind of stellar freshman forward Christina Conrad as she scored the first of Drexel's two goals in their 2-1 victory over Louisville on Buckley Turf Oct. 16. With the win, the Dragons improved their overall record to 10-5 and their home record to 8-2 with their only two home losses coming at the hands of conference rival Old Dominion, the nation's No. 1 team, as well as the current No. 16 team in the University of California, Berkeley — both losses were by one goal, including the 2-3 overtime loss to the Golden Bears.
The goal for Conrad earned her the honor of Colonial Athletic Association women's field hockey Rookie of the Week — her second such nomination of the season. Conrad commented on her achievement, noting that it is truly an individual honor to be selected for this award, but that it also reflects well on her teammates because by her winning this award, it also means that the entire team did well. She continued to say that even though she has won this award twice already this season, the Fallston, Md. native feels that she still has much room for improvement and that she will continue to work to progress her talent.
Aside from Conrad's accolades, as mentioned earlier, the Dragons did conquer the "upset" victory of the then-No. 20 Cardinals. Head coach Denise Zelenak did not preach the underdog theory, though, as she considered her own squad to be equal in skill with that of the Louisville team — a pure 50-50 split.
Zelenak carried on to say that the win was huge for her team, especially heading into the last few games of this season. Not only did they notch their 10th victory of the season, but simply beating a team ranked among the top 20 in the nation does a lot for her squad as well.
Now back to that home-field advantage. Zelenak stressed the fact that the Dragons are 8-2 at home for a reason — they are purely more comfortable in Philadelphia. She said that they have their fans at the games and that they have their routine of when to wake up, when to eat and when to show up to the athletic complex for game time, as well as prepping in their own training and locker rooms.
As the Dragons prepare to go on the road to Newark, Del. and College Park, Md. for two huge matchups before returning to Buckley for their final two games of the regular season, Zelenak referred to why it is so different to play on the road, saying that rather than being comfortable with that routine, now there are 22 girls packed onto a bus, together all the time, being fed the same thing at the same time, and of course, any of that can be distracting.
Even though that all sounds reasonable, Zelenak and her squad do not seam too frightened by the daunting tasks at hand. In fact, the first of the two games will be at the University of Delaware Oct. 21, which Zelenak feels is close enough to be a home game anyway. She feels that her team's attitude heading into the game will be simple: end the game with an impactful CAA victory — and the Dragons expect to win.
Once the matchup against the Blue Hens is complete, Drexel will head home for a few days' rest as they prepare for another top-20 opponent in last season's national champion, current No. 3 University of Maryland Oct. 26.
The Dragons are more than ready for the Terrapins and expect to compete for a victory as the underdogs once again. Zelenak actually takes kindly to the title, saying that it takes some of the must-win pressure off her team.
Zelenak expects her team to have more than a shot come game time. Maryland losing to Old Dominion 5-2 and Drexel losing 2-1 in a game that was filled with stellar defense and goaltender play tells Zelenak one thing — her team has a great shot against the Terrapins.