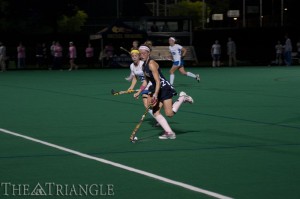 Drexel's field hockey team won the Colonial Athletic Association championship for the first time in program history last fall. This year the team is trying to top another program record — making it to the Final Four of the NCAA Tournament.
Not every team would put a task this daunting on its shoulders, but most teams are not returning almost every player from the year before.
"Our team and staff are very proud of last year's accomplishments. With only one senior and three juniors, our young team surprised a lot of people with their overall success," head coach Denise Zelenak said. "For us it was very exciting to watch them develop throughout the season, with the final result being CAA champions and, of course, representing at NCAAs."
Even though the Dragons graduated only one player from last year's championship team, you could say she was a major part of the team's success.
That lone senior was Amanda Fleischut. She was the captain, First-Team All-CAA, Second-Team All-American and Mary Semanik co-award winner for Drexel, which is given out annually to the best female athlete at Drexel for that year.
Zelenak, who is in her 18th season as head coach, has seen great players come and go, so to her, this is just business as usual.
"Even though we lost an amazing player and teammate, with each new season the team pushes forward creating their own dynamic style, and new leaders emerge," Zelenak said.
Some of those new leaders she will count on are senior captains Elise DiDonato, Kristen Focht and Lindsay McArdle. McArdle, who was named First-Team All-CAA last year, was also named Preseason CAA Player of the Year for this upcoming season.
In addition to these seniors, Zelenak has high hopes for some of her young returners who contributed to the Dragons' success last year.
"We have had some breakout performances from last year's underclassmen and have high expectations from Jantien Gunter, Christina Conrad, Ally Fuller, Lauren Hibshman and Jenna Knouse," she said.
Hibshman, who was only a freshman last season, performed very well for the Dragons, earning Second-Team All-CAA honors.
Gunter, who is a junior and hails from the Netherlands, will have to have another stellar season as goaltender for the Dragons. She gave up one goal or fewer in 11 games, which earned her Mid-Atlantic All-Region honors.
The team is currently enduring two-a-days in the Philadelphia summer heat to get ready for its first games Aug. 31 and Sept. 1 against Indiana University and Duke University. Even though they have a lot of returners, Zelenak and her staff want to focus on a few things.
"Giving them quality scrimmage time so that we have confidence and build continuity," Zelenak said. "Making sure we are physically and mentally ready to play back-to-back the opening weekend."
The Dragons are working hard to improve constantly, knowing that they have a target on their backs. They were recently ranked first in the preseason CAA poll and will have many teams gunning for them this season. The team and the staff are excited knowing that some of their big games will be on their home field, where a lot of their dramatic wins came last season.
Zelenak explained, "The overall atmosphere on game day at Buckley Field is awesome. The student and local fan base has really grown each year, and, for me, it is an amazing experience having the team play in front of our engaged home crowd."
Whether the Dragons will break more records this year is yet to be known, but no matter what, it will be an exciting season.