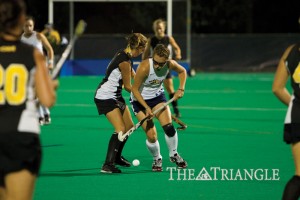 Meghan Plank's career with Drexel University's women's field hockey team started at a time when head coach Denise Zelenak's team was coming to the end of a phenomenal four-year cycle. Starting with a third-place finish in the Colonial Athletic Association Championships in 2007, Zelenak's side boasted a conference record of 26 wins and only six losses over a four-year window that saw the Dragons garner a second-place and two first-place finishes during the next three years.
The Dragons built their record off the phenomenal goal-scoring pair of all-time leading scorer Christina Mastropaolo and teammate Susan Ciufo, who scored a combined 118 goals from 2007 to 2010. The duo's time at Drexel culminated in an appearance in the CAA Championship Game in 2010; the Dragons lost by a single goal to Old Dominion University.
Thus it was with high expectations that Plank's freshman class joined a team that was returning five starters, having lost six the previous season. Adding to the pressure was the second-place projected finish for the Dragons from a CAA preseason poll and an 18th-place ranking in the Kookaburra/National Field Hockey Coaches Association (NFHCA) Division I preseason poll. It was a tall order indeed for any freshman class, but not one that was beyond the ability of the 5-foot-4-inch forward from Glen Mills, Pa.
A four-year starter and team captain at West Chester Bayard Rustin High School prior to coming to Drexel, Plank's resume boasted a host of accolades that included first-team All Ches-Mont honors for three consecutive seasons, a Pennsylvania High School Field Hockey Coaches' Association all-state first team mention and a place in the NFHCA High School National Academic squad in her senior year.
The versatile midfield and forward demonstrated that she was no slouch in the classroom either with memberships in the National Honor Society, the National French Honor Society and the Tri-M Music Honor Society — all compelling reasons why she would fit into coach Zelenak's multitalented squad that has distinguished itself both on the field and off it over her 17-season tenure at Drexel. Drexel has won the NFHCA Academic award for the last 9 consecutive years.
It was on the field, though, where Plank distinguished herself this year.
A starter in 17 of the 19 games that she played in for Drexel this season, Plank contributed three goals and an assist in a disappointing season for the Dragons. Having faced off against three top-five nationally ranked field hockey programs — No. 1 Old Dominion (2010-2011 NCAA Champions), No. 3 University of Maryland (2011-12 NCAA Champions) and No. 4 University of Connecticut — and significantly played eight true freshmen, Zelenak's side finished a distant seventh in the CAA with an overall record of 10-9 (3-5 CAA).
With results perhaps not being the best reflection of the work improvement that the team showed over the course of the season, five of Zelenak's players were honored for their performances. A First Team All-CAA nod for junior Amanda Fleischut — the team's leading scorer with nine goals — Second Team All-CAA honors for seniors Monica Baick and Sofia Sanguinetti and All-Rookie team selections for Plank and fellow freshman standout Christina Conrad — 19 games played, six goals scored and four assists made — served notice that outsiders had noticed all of their individual performances.
This was a trend that was followed over the weekend when Plank participated in a four-day training camp at the Olympic Training Center in Chula Vista, Calif. Plank was one of a number of players called up to the USA Under-19 Junior National Squad in the summer of 2011.
With her resume already boasting so many honors at this early stage in her Drexel career, Plank's career seems destined to continue to go from strength to strength. And with a final squad to be named for the U-19's international summer tour soon, Plank's name will be one that many a Drexel field hockey fan will hope to see on the roster.