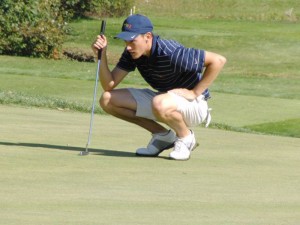 Rolling greens littered with sand traps and water hazards. That was the scene Oct. 8-9 when the Drexel University golf team competed at Plymouth Meeting Country Club in the Big 5 Invitational.
The Dragons placed 19th out of 22 teams in the tournament with a combined score of 624. Junior Benjamin Feld was the highest-ranked Dragon as he penciled in a score of 154, placing him 48th overall.
Junior Vincent Anagnos shot a 156 in his first competition for Drexel and ranked 75th overall. Junior James Braunsberg and freshman James Parsons shot a 157 and 160, respectively. Freshman Andrew Feldman finished with a 166.
Feld's mental preparation has helped him become one of the most consistent golfers on the team this year.
"As school has started, it has been more and more difficult to stay sharp, so I have been putting in some more effort to make sure I'm as prepared as possible to play each tournament," Feld said. "A lot of it comes from mental preparation.
"Envisioning success can sometimes be the best way to prepare yourself to play good golf, and I feel that I have had a much more positive mindset toward my golf game this season."
Feld's ability to recognize the nuances of his game beyond the psychological aspects is truly remarkable.
As for the competition, Dartmouth won the event with a team score of 578.
The Dragons placed 19th overall in last year's invitational. In addition, Feld was once again the highest-ranked Dragon last year, shooting a 150.
Once they finished up the competition at the Big 5, the Dragons moved on to more match play while also staying within the Philadelphia area.
The Dragons placed fifth out of the five teams that competed in the Philadelphia University Fall Classic Oct. 11, which was held at The Ace Club. Sophomore Ben Hinge led the Dragons, shooting a 77, good for seventh overall. Feld and Parsons both shot 78s to secure eighth overall.
Head coach Mike Dynda admitted that the golfers' unfamiliarity with the two courses might have played into the group's poor play as a whole.
"The team underperformed in both events," he said. "Most of the guys were just seeing these courses for the first time. They should be better next year."
Last year, Feld lead the Dragons to a win in the Fall Classic as he shot a 70, which was good for the best overall individual score in the tournament.
The Dragons will return to action Oct. 23-25 at the ODU/OBX Invitational in Outer Banks, N.C.