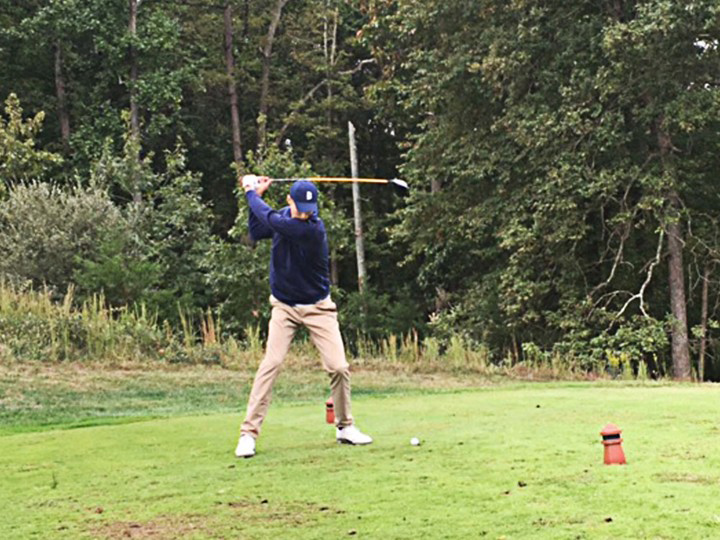 The days are shorter, the weather is colder, and the Christmas ads are slowly but surely invading advertisements wherever you turn. Yes, winter is coming, but that also means fall, and in this context, the fall sports season is coming to a close.
Such was the case for the Drexel University golf team, who made the short trip to nearby Huntington Valley Country Club to take place in the annual City 6 Invitational on Nov. 5, a tournament that pulls from Philadelphia's unofficial athletic coalition to host a one-day, one-round flurry to finish off the year.
What makes the City 6 unique in the nation is the amount of familiar, local faces that could be found walking the fairways and greens. Among the rosters of the six teams that participated, nearly 30 players hailed from the state of Pennsylvania, no doubt growing up facing each other time and time again in Junior PGA matchups and high school matches. For some, this was even a reunion of sorts, with multiple representatives from several area schools appearing in the field.
These relationships were temporarily set aside, though, "friend" replaced for the day by "competitor." And how fitting of course that the venue be a local mainstay: Huntington Valley Country Club. Nestled in a wooded bowl, with holes zig-zagging clockwise and counterclockwise within its ring, it provides 6,876 yards of test, especially in the breezy conditions offered by Nov. 5.
Its difficulty was certainly on display for even the local talent that took it on this past week. In the 30-man field, not a single golfer managed to break the elusive par threshold, with only one player, the University of Pennsylvania's Amay Poria, able to equal it with a 70 on the day. Poria's victory was not a runaway, though, by any means. Erik Reisner and Lucas Trim, respectively of Temple University and Villanova University, finished a stroke behind. Lurking right on their heels with a 72 was Drexel's very own Connor Schmidt, capping off what was a promising freshman campaign for the Venetia, Pennsylvania native.
Schmidt's teammates were not far behind, keeping Drexel very much in the hunt for the title this week. Senior Yoseph Dance ended with a solid 73, while junior Adam Mistretta and sophomore Brendan Bacskai posted very respectable 76s.
When the dust settled on the day, the Dragons were rewarded with a strong third-place finish, only a slim 2 strokes behind Temple and Villanova, who tied for the lead. Temple went on to win after just a single playoff hole.
With this round in the books, the fall season is officially over for the Drexel golf team, and as is the case with the close of every year, it offers an opportunity for some reflection.
Certainly, these Dragons surprised many thanks to a roster balance that few expected. From senior to freshman, it seemed like each week was an opportunity for a new member to step up and lead the crusade for their team. One week Dance, another Schmidt, another Fricke.
This year had its share of memories, too. A CAA player of the week nomination, a tie for a victory, and, to top it all, the viral victory at the Explorer Match Play Championship. With these ups, there were also plenty of downs, but such is to be expected in such an inexperienced team under a first-year coach.
Regardless, one thing's for sure: as this young Drexel squad matures and comes into its own, plenty more exciting times lie ahead. Stay tuned.