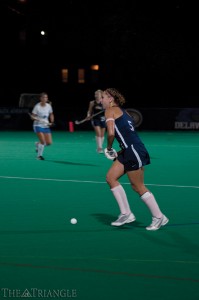 The Drexel field hockey team is coming off a weekend of ups and downs against two tough conference opponents. To open the weekend, the Dragons traveled to Boston Oct. 11 to take on Northeastern University in a rematch of the 2012 Colonial Athletic Association championship game.
The Dragons put themselves in good positions to score throughout the game, but sometimes the ball just does not go into the goal.
"This was one of our best games technically," head coach Denise Zelenak commented. "We moved the ball well and created a lot of offensive opportunities."
Senior co-captain Elise DiDonato, junior Christina Conrad and junior Rachel Sumfest each had two shots on goal for Drexel's offensive effort throughout the game, as the Dragons outshot the Huskies 12-8. But they were never able to find the net and ended up falling 1-0.
"Unfortunately, between their defense coming up with some key saves and us not converting on our opportunities, we were not able to get on the scoreboard Friday," Zelenak continued.
Drexel then took on CAA rival Hofstra University. The Dragons jumped to a 2-0 lead before 10 minutes passed on the scoreboard, with both scores by Conrad. With a two-goal lead going into halftime, the Dragons understood they needed to finish when they had an opening.
"Knowing Hofstra was well rested, it was important for us to set the tempo and convert on our opportunities," Zelenak said. "It was exciting to see the team's strong play quickly translate onto the scoreboard and a well-earned win for our squad."
The Dragons would score another goal to start the second half thanks to DiDonato, and they ultimately hung on for a 3-2 victory.
Next up for Drexel was Lafayette College, and the Dragons earned a hard-fought 1-0 victory against the Leopards. Junior Chloe Pachuilo scored the game-winning goal early in the second half, and junior goalie Jantien Gunter made four saves for a shutout. The Dragons outshot the Leopards 9-4 in the game.
"They give us a solid game every year, but this year we are prepared for the challenge," senior captain Lindsay McArdle said.
The Dragons now sit with a 10-4 record, including 1-1 in conference play. Even though Drexel had a brief losing streak, each loss was a hard-fought battle all the way until the end.
"They consistently work hard and have done their best each game, which is all we ask of them," Zelenak said. "So I guess that means we are exactly where we should be right now."
The Dragons will play a big game against City 6 rival Temple University Oct. 20 at Vidas Field, where they hold a 5-1 record this season.
"I am looking forward to the upcoming game [against Temple]. It may not be a conference team, but they are big rivals," Zelenak said. "This will challenge our squad as we cycle back into conference play for the four final games of regular season."