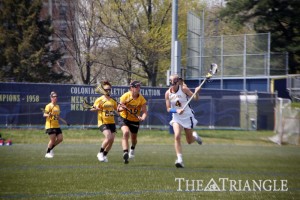 Following a preseason that lasted over a month, the Drexel women's lacrosse team is ready to get the season underway. Their first game will be Feb. 16, when they travel to Washington, D.C., and face off against George Washington University.
It was not the preseason, however, that prepared the Dragons for this matchup, and more importantly, this season. Their focus on the 2013 season started the second last year's season ended in a one-goal loss to Towson University in the Colonial Athletic Association playoffs.
The team has been working hard through preseason drills, practices and items such as fitness testing. Head coach Anna Marie Vesco senses the anxiousness in her team to hit the field in real games. They have been working hard to shore up each aspect of the game. In her opinion, they are ready to go.
"We're ready," she said. "We've been working pretty hard on both ends of the field, working on our transition. The girls are chomping at the bit; they're ready."
While the veteran players remain hungry from the disappointing ends to previous seasons, the 2013 edition of the Drexel team is actually much different than even last year's.
"We have a good core back, but we lost 10 players in graduation, which is a big loss," Vesco said. "We lost [Charlotte Wood], one of our leading scorers last year."
Wood scored 37 goals last year, tallying 50 points. She was such an important piece to the team that she had points in more than 25 percent of the Dragons' scoring last season.
Any concerns that Vesco and the team may have about replacing that production are no longer a big issue, as a few players stepped up in the preseason.
"We thought that was going to be an issue," Vesco said. "It seems that we're having some youngsters step up, and it's exciting."
Vesco also praised returning Dragons and a few standout stars in the preseason: Kelly Palace on the attacking end and Summer O'Donnell, a defender who was redshirted last season. She was also impressed with senior Kristin Kopenhaver on center draws, saying she will be a big key to the team. It appears the team has enough pieces to fill in the missing roles from the departed class.
A big reason why Vesco and the team can be successful despite losing so many seniors is that her leading scorer is returning. Senior attack Alyse Maiden is back after leading the Dragons with 55 points in 2012. One particular thing that excites Vesco is the synchronization of Maiden and the veteran Dragons, including Kelli Joran and Amanda Norcini.
"We've had several players starting since freshman year, so their connections are really great on the field," Vesco said. "We're having some really nice looks, nice plays, all the way from transition into the attacking end. It looks very strong."
Maiden, a captain on the team, agrees and thrives with those connections Vesco sees. She also sees connections being made by the team as a unit.
"I definitely feel like there's certain people that connect on the field, but it's great that our whole team connects for the most part," Maiden said.
She embraces the new players and looks forward to seeing how they fit into the team. She continued, "It's a great feeling, and it's tough that we had 10 seniors graduate last year, so it's great to see new faces on the field."
Vesco is interested in continuing to watch the battle in net unfold during the course of the season. Incumbent goalkeeper Teresha Bradley and freshman Carlee Ries have been battling for the starting job throughout the winter. Vesco is leaning toward starting Bradley in the season opener.
"Right now it looks like Teresha has the edge," Vesco said.
Once a decision is reached, the team will be completely ready to get things underway.
"We're excited and we worked hard for it, so a lot of people are ready to step up to the challenge," Maiden said.
Vesco discussed some of the goals and expectations, but for the most part left determining the goal up to the players.
"We try to lay the goals out as them, like, 'What do you want to accomplish this year, as your team?'" she explained.
There was an overwhelming popular response to that question.
"They are really focused on the CAA championship and winning it," Vesco said.
More specifically, there is one CAA foe that every Dragon has her eyes on, the team that ended each of their last two seasons: the Towson Tigers.
"We'd love to beat Towson and give them a little run for their money," Maiden said. "That's something we're definitely looking forward to."
In 2011 Drexel fell to them in the playoffs by two goals. Last year it was only a one-goal decision, which does not make it any easier to cope with a season-ending loss.
"We hate losing to Towson, so we want to do everything in our power to beat them," Vesco said.
Maiden thinks the team has made the necessary adjustments and improvements to put themselves in position for a rematch that favors the Dragons. She and her teammates have been working hard to get themselves into the next stage in the playoffs and ultimately capture a CAA championship.
"I think we've come a long way since the fall," Maiden said. "It went by very [quickly], and I think we're just ready to start the games."
The season opener against GWU starts at 1 p.m. Their first meeting against Towson will come April 21 in Towson, Md. If history is any indication, it will not be their only meeting this season. That's what the Dragons hope.