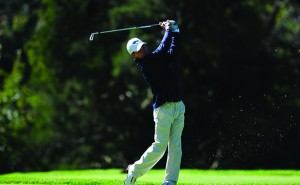 It was one hole.
In fact, not even one hole. It was one bounce on one hole.
Drexel junior golfer Christopher Crawford finished tied for second Sept. 27-29 in the Patriot Invitational in Lorton, Virginia, because of one bounce on one hole. He shot a three-round total of 210, three strokes under the Laurel Hill Golf Course's three-round par.
Crawford drained 11 birdies, including five in a scorching-hot second round Sept. 28, while limiting himself to just six bogeys and one double bogey.
But it was that one double bogey, because of that one bounce on that one hole that did him in.
Heading into the 17th hole in the final round, Crawford was 5-under-par for the tournament and leading Missouri University's Ryan Zech by one stroke. Par on the final two holes of the afternoon would have spelled victory for the junior, who won three invitationals last season and has been tantalizingly close to winning each of his first three this fall.
As head coach Mike Dynda described, the 17th hole was a 500-yard par-four with bunkers on the fairway and a creek crossing the fairway at 100 yards. Dynda and Crawford decided to hit a 6-iron over the lip of the fairway bunkers, playing it safe. They thought, after his tee shot landed in a bunker, they could wedge the ball onto the fairway and salvage a putt for par, keeping Crawford at 5-under.
But they apparently didn't play the scenario safe enough.
"What happened next may have been the worst luck I've ever seen in college golf," Dynda said. "Think Jean van de Velde, British Open a few years back."
Crawford's shot narrowly missed clearing the steep grass bank in front of the bunker and skimmed it, and shot at a 45 degree angle to the right into the water hazard.
Crawford took his penalty drop, chipped it to within 50 feet of the hole, and two-putted from there. He lost two strokes on the tournament, lost his lead with one hole to play, and ultimately lost the trophy he had earned with the preceding 52 holes.
All because of one bounce on one hole.
But Crawford never looks back, not even when he comes within one bounce on one hole of winning a tournament. After finishing tied for second, Crawford still understood there were lessons to be taken away from the invitational.
After all, he had been leading on the back nine.
"It's always disappointing to not come away with a win," Crawford said. "That's the goal when you enter the tournament, to try as best as possible to win. However, I played some very good golf this past weekend and I am very encouraged about how my game is currently progressing. I'm already looking forward to teeing it up at Philmont [North] in a few weeks.
"I played very well throughout most of the week. I drove it great off the tee, hit my irons solidly, and made enough putts when I needed to. I got some good practice in last weekend with Coach, and was able to turn it around pretty quickly so I was ready to go for the weekend. I have only positives to take away going forward."
Dynda agreed with his star golfer and said that Crawford's play over the first few weeks of the fall season has impressed him, because he knows Crawford has yet to play his best golf.
What he saw at the Laurel Hill only reaffirmed his belief in the junior.
"Chris is getting better every day, every week and every year," Dynda explained. "He didn't have his ball striking the first day, but managed to squeeze out a 72 with good thinking and course management.
"Round 2 is always tough, when you're on the golf course for 36 holes from getting there in the dark to finishing in the dark. Chris's ball striking got a little bit better and he made a few key putts.
"The final round was really neat to watch; as I watched Chris on the first, fifth, and ninth holes, he had control of his golf ball."
After watching Crawford finish seventh, third and now second to begin the season, Dynda knows that his best player will compete, week in and week out. When it comes to seeing Crawford in the top 10 of any given tournament, it's a question of "where," not "if."
But competing is one thing, while finishing is another. Does Crawford still have the mental acuity to finish off a tournament?
"Absolutely," Dynda said.
"Chris seizes the moment when he's in contention," the coach explained. "He's like a shark; he smells blood, and usually finishes the task."
"I made one poor decision and it happened to come on my second to last hole," Crawford acknowledged.
One bounce on one hole.
"Those things happen," he continued, "and all you can do is learn from them."