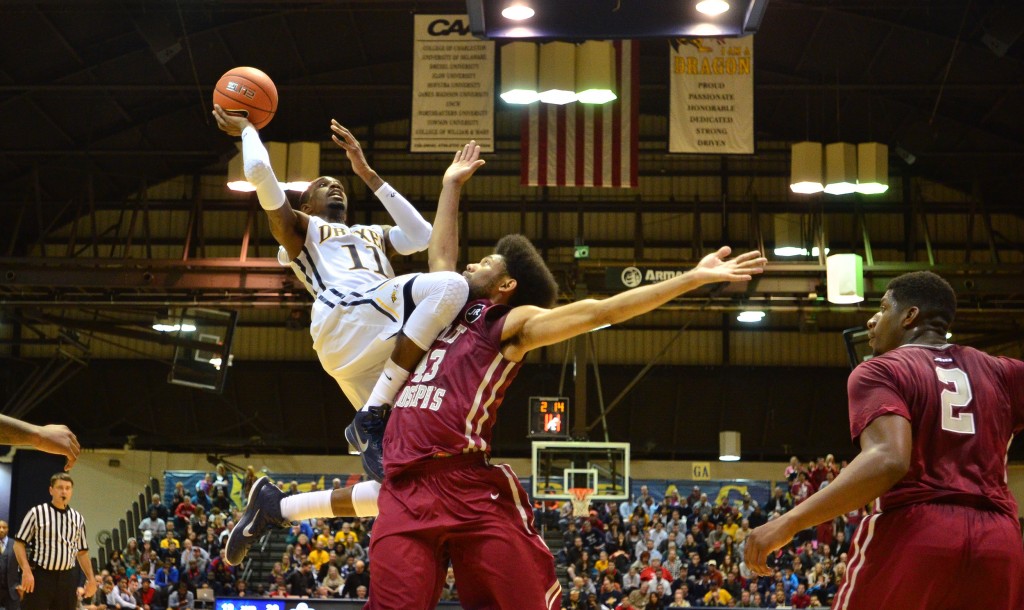 There are three distinct, unique parts that make up the Drexel men's basketball team's perimeter situation heading into the fall.
We have the seasoned veteran in senior Tavon Allen. Then there is the upside-heavy young gun in sophomore Sammy Mojica. And, to round it out, there's the unknown commodity in junior Ahmad Fields. They'll each vie for playing time in an offense with a newfound logjam at the guard positions.
These three are here for their shooting, but they each bring something different to the table. It will likely take some time to figure out where each fits in this season's iteration of the Drexel offense, which has been based largely on three-point shooting and guard play in the last three seasons.
In evaluating the three pieces, it makes sense to begin with the veteran.
Tavon Allen got a little taste of being the team's primary scorer when Lee missed time down the stretch last season. With Lee donning red and white this season, Allen will be Bruiser Flint's oldest and most seasoned guard. But his statistics have yet to reflect a player the team can depend on for an entire season.

After redshirting his first year and putting up an intriguing freshman season, Allen was expected to refine his shooting. In his second season, Allen's field goal percentage jumped two percent, but his three-point shooting fell eight percent and his free throw shooting dropped 10 percent.
While he fixed his free throw shooting last season, catapulting back up to a dependable 80 percent from the stripe, Allen shot a woeful couple of splits from the floor. He connected on just 31.5 percent of his shots from the field, including just 28.3 percent from behind the arc.
In short, when Allen shoots at a higher volume, his efficiency tumbles. He averaged fewer points in his junior season last year (11.2) in three more minutes per game than his sophomore season, and his field goal percentage dropped eight percent.
If he's asked to do even more this fall, there's no telling what those numbers could look like. According to Ken Pomeroy's numbers, Damion Lee used 29.1 percent of Drexel's shots when he was on the floor last season. Allen used 28 percent of the team's shots when he was on the floor.
The minimal, one-percent gap means that we likely saw what Allen will look like when he's the offense's primary operator. With Lee gone, Allen needs to be better if Drexel wants to compete with the top teams in the Colonial Athletic Association.
Moving on to a younger piece, there is Sammy Mojica. In a season otherwise riddled with injuries and frustration, the then-freshman Mojica was the ultimate bright spot as far as the program's future is concerned.
After a slow start to the season, stuck behind Lee, Allen and London for playing time as a guard, Mojica exploded in the second two-thirds of the year. He finished the season averaging 7.7 points, 3.5 rebounds and 2.1 assists per 30 minutes of action. He shot 39.3 percent from the field, a passable mark, but his 36.9 percent shooting from the three-point line was a big part of his game.
In his final 11 games before suffering a knee injury Feb. 25, Mojica played his best basketball of the entire season.

In those 11 games against conference opponents, he averaged 9.5 points, 2.8 rebounds and 2.0 assists per game, shooting 51.3 percent from the field, 50 percent from the three-point line, and 75 percent from the free-throw line. He averaged 27.8 minutes per game in those 11 contests.
It was a streak of basketball that, paired with the consistently staggering Damion Lee, allowed Drexel to creep back into conversation for the conference title weeks after the Dragons had been relegated to the middle of the CAA pile.
Mojica is one of the hardest-working players on the team during games, constantly willing to give up his body for a loose ball and crashing the offensive boards harder than much taller opponents.
And then, of course, there is the course of a player whose identity is largely unknown. Evaluating a player based on four pick-up games and a perilously small pool of data is a difficult task. This is what makes junior guard Ahmad Fields such an intriguing prospect.
As a freshman at the University of Utah, Fields was stuck behind guard Delon Wright, who was selected in the first round of the 2015 NBA Draft June 25, in his hunt for playing time.


Fields saw just 7.5 minutes of action per game as a freshman at Utah, but he put his 143 minutes of on-court time to use, shooting 47.5 percent from the field and 40 percent from deep.
Averaging his largely stifled statistics out over 30 minutes per game, Fields 13.2 points per game, 8.4 rebounds per game and 2.0 assists per game. These would be largely ideal numbers for Drexel's offense, especially considering the accuracy with which he shot the ball at Utah.
That said, sizing up Fields' fit with the Dragons is mainly speculation. After transferring from Utah to Drexel in the summer of 2014, Fields sat out the entire 2014-15 season because of National Collegiate Athletic Association transfer rules. So his cohesion with teammates and Bruiser Flint's playing style is entirely up in the air.
However, Fields looked smooth in a handful of pick-up games with his teammates in the Daskalakis Athletic Center in late May. He has a smooth, quick release when shooting from deep, and his movements in the half-court offense are compact and exacting. Fields' drive to the hoop is fluid, far more so than that of Tavon Allen despite being equally lanky at 6-feet, 5-inches and 195 pounds.
Allen will be the go-to guy for Drexel's perimeter shooting in the early going because of seniority and established experience in Flint's offense. But it wouldn't be a surprise to see Fields command that same level of usage in the team's offense after a few games. He has a lot to offer a team in desperate need of scoring after the departure of Fields' good friend Damion Lee.
Because the crowd in front of him features two older players, Mojica will likely start the season on the bench as the team's No. 3 wing, behind Allen and Fields. But the sophomore has serious talent, and if Allen or Fields even so much as stumbles, Flint would be remiss not to give Mojica a starting look. He showed down the stretch last season that, given a chance, he can be one of the Dragons' best shooters. And with Lee's possessions now up for grabs, those numbers could look even better in Mojica's second season.
Sometimes, value is lost in a crowded field. For Drexel and Flint, after last season's barebones roster was barely able to cobble together 50 points each night, a crowded roster isn't a problem. The only question will be how to find time for each player to have the proper impact.