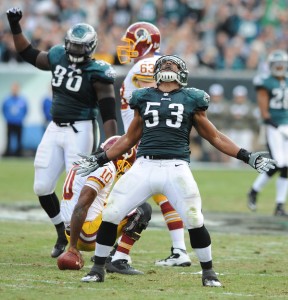 The Philadelphia Eagles are in the midst of a bye week, riding a three-game winning streak that has them tied for first place in the NFC East. After starting out 3-5 in the first half of the season and allowing over 24 points per game on defense, the Eagles have won three straight since, giving up just over 16 points per game in the process. The huge swing in the defense is a testament to how well defensive coordinator Billy Davis has progressed with his players.

A catalyst in this defense has been linebacker Connor Barwin and his league-leading seven batted-down passes at the line of scrimmage. He told Comcast SportsNet Philadelphia, "When I don't get to the quarterback, I just put my hands up. It was stressed in Houston where I came from, obviously. And I think with my basketball background, [Texans defensive coordinator] Wade Phillips always taught us to rush and see the quarterback."

Now tied with the Dallas Cowboys for the division lead, the Eagles still have a few things they can iron out before going back out on the field Dec. 1 against the Arizona Cardinals. For two consecutive weeks we have seen questionable tactics from head coach Chip Kelly when it came to throwing out the challenge flags. There were at least two instances Nov. 17 against the Washington Redskins where Kelly would have won a challenge but opted not to throw the flag.

Kelly needs to iron out whatever technical difficulties or otherwise have been happening between him and his replay booth upstairs. But freshman political science student Shefit Koboci saw how it was the opposite when Andy Reid was in town. "Reid would challenge so many plays that left you frustrated because they were very bad challenges. Chip Kelly challenges no plays, [but] that leaves the same feeling."

The Eagles also need to figure out their play calling. As crazy as it sounds with their torrential offensive pace, this needs to be addressed. In their win over Washington, the Eagles were shut out after putting up 24 points in the first 35 minutes. This is actually the second time this season that this has happened against Washington, the first being in week 1. They got lucky last week with a horrific backpedaling pass from Washington quarterback Robert Griffin III that landed in the hands of cornerback Brandon Boykin for a game-ending interception, but that luck might run out against teams with elite-level quarterbacks.

Whether it's avoiding running up the score or the cautious approach to calling plays that would mitigate injury risk, Kelly needs to recognize that in his high-octane offense, he needs to run up the score. Koboci summarized that "Kelly just needs to imagine that he's back in college and that hanging up a 60-spot on the other team every week means more BCS points."

There's also an issue of running back LeSean McCoy "dancing" in the backfield in hopes of avoiding tackles. While Eagles fans everywhere love it when McCoy jukes away from defenders and turns a five-yard loss into a four-yard gain, it still has a tendency to backfire and produce a massive loss. Average or bad defenses can be tricked by McCoy with his jukes in the backfield. But come playoff time, elite defenses like those of the Carolina Panthers or Seattle Seahawks will quickly snuff out his attempts to outmaneuver them.

Although the Eagles are on a high wave right now, they have real tests in the coming weeks against the Cardinals, Detroit Lions, Chicago Bears and Cowboys. Most of the team's wins this season have come against sub-.500 teams, with the one exception being the Aaron Rodgers-less Packers. Their only remaining opponent with a losing record is the Minnesota Vikings. So while we can celebrate the unexpected first-year success under Kelly, there is still work cut out for the Eagles, and this bye week provides an excellent opportunity for them to address some of the issues.