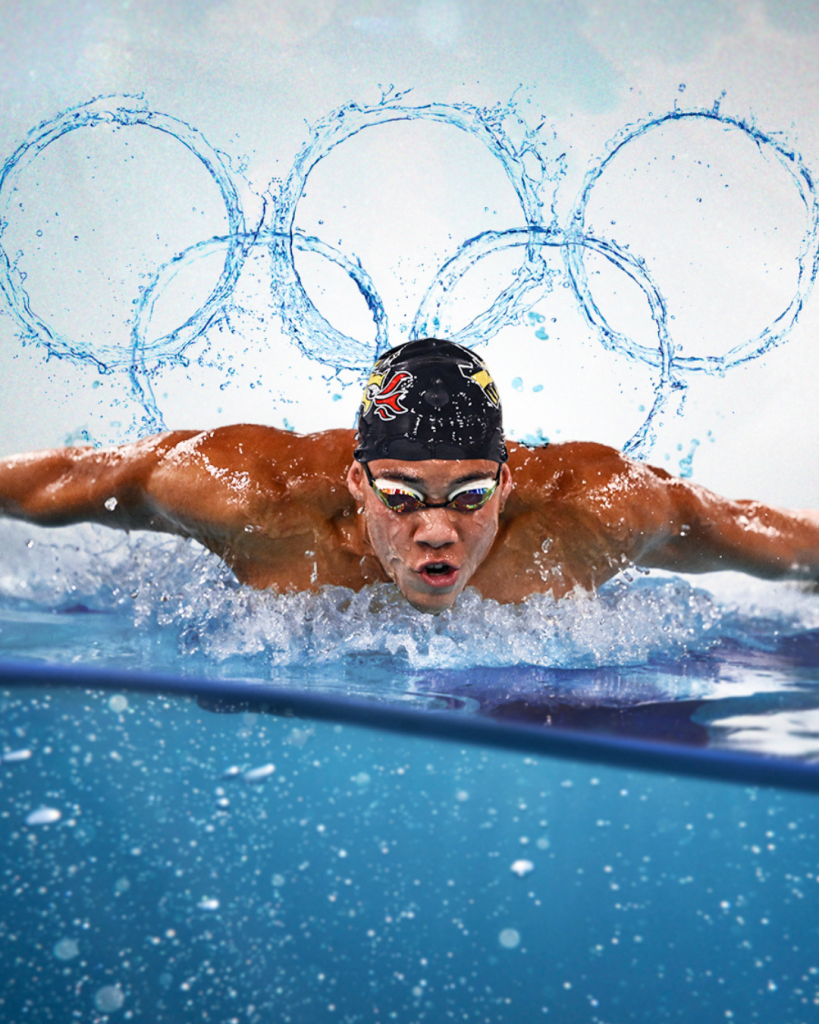 Sebastian Smith, a member of the Drexel Men's Swimming and Diving Team, qualified for the 2024 U.S. Olympic Swim Team Trials earlier this month. To qualify, athletes must reach the 100 Long Course Meters (LCM) fly standard of 53.59 set by USA Swimming. That day, Smith hit 53.51 and instantly became the first ever male swimmer in Drexel program history to qualify for the trials.
Back in his NY hometown, the Wappingers native was team captain for his high school's swim team where he set every record in the school and was named sectional and divisional champ. This past April, Smith was named CAA's Rookie Swimmer of the Year, something that was undoubtedly expected to come for the DU swimmer.
I had the opportunity to interview Smith and learn more about him and exactly how he felt the day he qualified for the trials.
"I actually did it at…a New York meet that I've gone to for like four or five years. I know everyone there. It's a great competition. Going into the race, actually, I ripped my cap like right before…I'm on the swim block getting ready and then it rips on the side and I'm like, 'you're kidding me!' So I'm trying to calm down and run back over to grab a spare cap…Honestly, I didn't feel great during the race. It was pretty much just like grit — I just really wanted the cut. But then I touched the wall and my best friend, my coach and one of my other very close friends and training partners were crying on the sideline…and then I look up and people started screaming, and I just got filled with emotions and I just double fisted and slapped the water," Smith said.
He also spoke from the heart, mentioning the impact his late coach, Marc Rizzo, had and still has on him today.
"I actually lost my club coach in March over spring break who meant more [to me] than people will probably ever know…. A big father figure, mentor, just like the rock in me and my best friend's life. It was always us three so it took a little bit to get back into the water after that…there was so much emotion in that race because it was truly just…the goal for the season. There were so many years leading up to it and we knew we could do it — I had to just do it, you know?…So that was such an adrenaline-pumped slap in the water…it was just the happiest and the saddest moment combined together."
At every meet, Smith wears coach Rizzo's old Cornell Swimming and Diving shirt for good luck before his races.
The rising sophomore also shed light on how his first year went as a new Dragon.
"I definitely thought [the] winter and fall quarters were the hardest for me…Spring quarter I made a lot more friends, had a lot more fun just like living a little bit more…On the swimming side of things, I thought it was a pretty good year — I could have done a little bit better…I wanted to win our conference the first year. I thought that was very doable but…it was really great competition so you know I'm actually happy about that — to have something to strive for in the years forward. I think [freshman year] wasn't bad but I'm not going to say it was perfect because if it was perfect, I feel like you didn't have the right college experience."
"It's picking and choosing your battles and making sacrifices, point blank. And I think that people would agree that sacrifices have to be made for whatever sport you're in, especially at the highest level," Smith said when asked what it takes mentally and emotionally for him as a full-time college student and D1 athlete.
The exercise science major shared that though his schedule is jam-packed, behind him is an array of support.
"I feel like I have had nothing but support in all aspects. I would say my family is right up there and my coach who passed. Every single time I did something Drexel-related he would post it on Facebook. And then my best friend, Finn…every single time anything would happen, they're always the first to see what times I went and watch the livestreams back…The team as a whole has been super supportive. All of the coaches, the strength and conditioning staff I've worked a lot with. I've done a lot of stuff with my major too with them and they've been strong supporters. Across the board it's been overall an uplifting experience."
What are the next steps for him after qualifying for the trials? He revealed that the first step is to breathe.
"This upcoming season is going to be very, very long because when everyone else on the team finishes our conference meet and I have to hopefully go to NCAA's, I don't get to stop training and then after that, I have to keep training even longer for trials…The fine-tuning aspect and hyperfocus really increases towards the higher end of the season. Starting that not too early I think is the key."
When he is ready to dive back into it all, Smith sees more growth and success in his future.
"I'll say NCAA's is definitely a goal. I want to be at that meet and I want to do well. I want to break everything on the record board basically. I want to…do well at trials. I have a full year under my belt but I'm nowhere near the top…It's doing what I need to do for the team too, you know? Going to conference and trying to win I think is the biggest thing and just climbing each rung until I'm at the top."
The U.S. Olympic Swimming Trials are scheduled for next June in 2024 at the Lucas Oil Stadium in Indianapolis. There, Smith will be warming up in his lucky Cornell shirt, prepared to accomplish yet another one of his many goals.