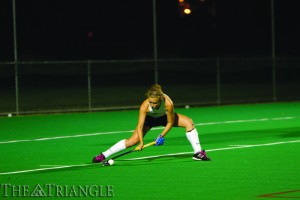 After three wins in a row, the Drexel University field hockey team continued their winning streak against No. 15 University of New Hampshire Sept. 30.
The Drexel field hockey team lost 5-1 away from home turf Sept. 16 to city rival Temple University. With that loss, the Dragons' losing streak went on to three games, and their overall record stood at 5-3.
Nevertheless, what transpired over the next four games resulted in the Dragons going into their Oct. 5 game against the No. 21 College of William & Mary with a four-game winning streak and a 9-3 overall record (2-0 in the Colonial Athletic Association). The most recent wins were 3-1 away at Towson University Sept. 28 and 3-2 in overtime at home over the No. 15 University of New Hampshire Sept. 30.
Drexel's win at Towson was a relatively comfortable affair. The Dragons scored all three of their goals in the first half. Freshman forward Mary Lynam, senior midfielder and team captain Amanda Fleischut, and sophomore midfielder and forward Meghan Plank all scored within an eight-minute span to effectively put away the Tigers before the intermission. Towson pulled a goal back in the second half, but the game was already out of reach.
However, Drexel's tilt against New Hampshire two days later was anything but comfortable. Amanda Fleischut's early first-half goal was canceled out by two New Hampshire goals later in the period, putting them ahead 2-1 going into halftime. The second half saw Drexel pile on the offensive pressure, doubling their counterparts in the period's shot total (6-3), and their efforts paid dividends six minutes into the second when senior midfielder Lindsay McArdle tied the game at 2 with her sixth goal of the season via an assist from Fleischut. Drexel's third win of the season against a ranked opponent (the Dragons had previously beaten No. 5 Duke University and the No. 22 University of California, Berkeley) was complete nine minutes in when Fleischut scored her sixth goal of the season to cap off a thrilling 3-2 win.
Speaking before the William & Mary game, McArdle and head field hockey coach Denise Zelenak were honest about how the losing streak affected the team and how it acted as perhaps the best piece of motivation imaginable.
"When we had that losing streak, we realized that we were beatable just like any other team," McArdle said. "In order to win, we needed to continue to work hard and hone in on skills and systems that needed improvement. Over the last few weeks, we have done some fine-tuning as far as individual defense and finishing in the circle goal. All the details we have been working out have been paying off due to great coaching and hard work from our team."
Zelenak echoed that sentiment, saying, "We had a reality check and found out that we can lose. The last two weekends were the result of strong preparation and the ability to capitalize in the red zone."
In addition, it also helps to have the team captain playing at a high level. Amanda Fleischut, who was named CAA Player of the Week Oct. 2, has perhaps been the most crucial factor to Drexel's recent winning run. She is tied for first on the team with McArdle in goals scored (six), leads the team in assists (five), points (17), shots (35) and shots on goal (23), and she is also tied with Mary Lynam and sophomore forward Christina Conrad for the team lead for game-winning goals (two). "We definitely rely on her to set the tempo for the game, and when she is playing strong the team definitely follows," Zelenak said.
Saturday's game against No. 21 William & Mary represents an opportunity for Drexel to win its fourth game this season against a ranked opponent. The Dragons, however, aren't resting easy. Everyone is fully aware that William & Mary, who like Drexel has a 9-3 overall record, will be a very tough opponent.
"William & Mary has a strong team this year, and we're excited to play another conference game this weekend," junior fullback Kristen Focht said.
"We try not to focus too much on rankings because on any given day any team can win," Fleischut said. "We are going to play William & Mary like any other ranked team we have gone up against this season: hard and with heart."