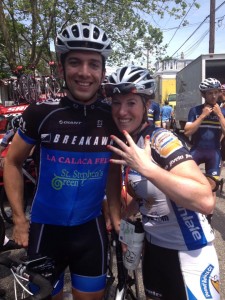 Not many names have more clout in the sport of cycling than Lance Armstrong. Regardless of his performance-enhancing drug usage, he was one of the world's most dominant athletes for nearly two decades. This past Sunday, June 2, three Drexel University alumni raced in the Philly Cycling Classic, the same event that Armstrong won back in 1993.
When Armstrong won his title, the event was called the Philadelphia International Championship, and the first American cyclist to cross the finish line was crowned the national champion. This time around, it was the Philly Cycling Classic and the stakes were not quite as high, but that does not take anything away from Dave Casale, Victoria Hanks and Brett Kielick.
Casale, Hanks and Kielick all met and competed collegiately as Dragons, and they each had a different path to where they stand as cyclists today. While at Drexel, Casale studied mechanical engineering, Hanks studied fashion and merchandising as an undergrad then earned an arts administration graduate degree, and Kielick studied architecture.
Hanks came to Drexel to play on the softball team and met Casale when the two lived on the same floor of Calhoun Hall as freshmen. Coincidentally, they also lived on the same floor of North Hall the next year and began dating. After her softball career was over, Hanks wanted to get involved with another sport to stay active during graduate school. Casale had a background in cycling, so Hanks bought a bike, and the two joined the Drexel Cycling Team together.
Meanwhile, Kielick came to Drexel to row on the crew team. After a few years on campus, he moved into a house with some of his teammates who had mountain bikes. Kielick competed in weekly time trial races for a while and then joined the Drexel Cycling Team after his rowing career was over. The Drexel Cycling Team allows newcomers to the sport to get acclimated to racing without being intimidated by the upper-level riders in high-pressure situations on the racetrack.
"There are categories A, B and C, as well as the introductory category in collegiate cycling," Casale explained. "The intro category is basically the best thing ever invented. Intro riders go around with coaches and are coached during the races."
Without the "nurturing experience" of collegiate cycling, as Hanks called it, a cyclist would be "thrown into the fire" of Category 5 racing, as Casale described it. In the cycling circuit, riders begin at Category 5 and are moved up to Category 4 after 10 races. At that point, they must perform well enough in sanctioned races to move up to Category 3, then Category 2, and finally Category 1, which is the highest level in the country.
All three of these former Dragons classified as Category 1 racers through their ascension up the ranks over the past five years or so, and this enabled them to take part in the Philly Cycling Classic. According to Casale, there are only two women and 30 men who qualify as Category 1 cyclists in New Jersey. Although Hanks made it from intro to Category 1 in just a few years, it is not a common occurrence for a cyclist to climb up the ranks so quickly.
"You have to be dating someone who is racing every weekend," she joked of her relationship with Casale, who proposed to Hanks after she completed her race on Sunday. The two are now engaged after dating for seven years since meeting at Drexel.
Of those 30, only about 10 are professional, while the remaining 20 live somewhat normal lives, working day jobs and things of that nature. Casale followed his course of study and works as a mechanical engineer in Northeast Philadelphia. Hanks works two jobs, including one with the Leukemia & Lymphoma Society Team in Training. It is a nonprofit organization that raises money for blood cancer treatment through participation in endurance sports.
Her other job is as program director for the Cadence Cycling Foundation, which teaches inner-city kids in Philadelphia how to ride and race bikes. Along with Hanks and others, Kielick works for Cadence as a coach, mechanic and salesperson. He also works part-time for an architecture firm, per his education at Drexel.
Although all three lead very busy lives, they trained as hard as ever to prepare for the Philly Cycling Classic. Expectations were pretty much the same for all three, as this would be one of the biggest races of their cycling careers to this point.
"My anticipation is that it's going to be the hardest race I've ever done," Casale said the night before the race. "This is a rare occasion where I will be nervous before the race."
Hanks had similar feelings that day. "Once you race so much, you don't get nervous anymore. But tomorrow it is weird to be nervous because usually it's more nonchalant," she said.
The riders put all words aside Sunday morning, when they went out on the course. Hanks finished 69th out of 110 female riders, while Casale and Kielick each recorded DNF (did not finish) results. Early in the race, Casale crashed his bike at a low speed and never got back up to the pack before being removed from the course by the officials. Meanwhile, Kielick fell behind the main pack, completing seven of the ten laps before officials called him off the course.
"It was definitely as hard as I thought it would be," Kielick recalled after the race, where he estimated that he finished around 120th out of 190 male riders. "I didn't finish well, but the accomplishment was being able to start and seeing how long I could hang."
It was the first time he and Casale competed in the race, while it was the third time around for Hanks. This year's edition of the Philly Cycling Classic was unique because the male and female riders were on the course in two separate races rather than all clumped together. Also, the men's and women's prize money was equal for the first time ever.
Perhaps the most intriguing change in the event was the placement of the start-finish line at the Manayunk Wall rather than on the Benjamin Franklin Parkway. The Wall is a steep uphill climb on Levering Street in Manayunk, where many spectators watched on their porches and tailgated on Sunday morning to cheer on the cyclists as they passed.
"I've watched from the Wall before and had an idea of what it would be like," Kielick said. "The couple of minutes I went up the hill with everybody cheering for me and screaming my name was probably one of the coolest moments I've ever experienced in a race."
Although their finishes were not among the top of the bunch, all three Drexel grads expect better results next year, thanks largely in part to the experience they gained this time. With another year to compete and another year to improve, their next opportunity at the Philly Cycling Classic is sure to be a special one once again.
"I finished about seven laps, so I was pretty happy with that," Kielick, who is a two-time Pennsylvania trial champion, said glowingly. "Hopefully next year I'll be able to race it again and be a bit stronger."