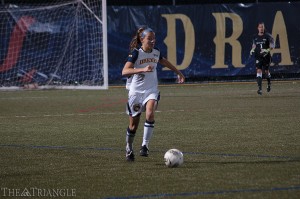 The Drexel women's soccer team's struggles continued offensively. For the fourth straight game, the Dragons failed to get on the scoreboard and were shut out 2-0 Oct. 6 by James Madison University.
Drexel fell to 4-8-1 on the season and has yet to win a game within the Colonial Athletic Association, falling to 0-3 in conference play.
The game started out as a close contest, with each team scoreless through the halfway point. JMU fired five shots, while the Dragons stayed close with four. Goalkeeper Eve Badana received strong play from the defenders in front of her, as the junior was backed by two blocked shots from her Drexel teammates.
Despite struggling to get anything going offensively in the early stages and majority of the second half, the Dragons were able to keep the game scoreless. The Dukes were relentless in their attack, sending a total of 13 shots Badana's way.
JMU would finally break through about 75 minutes into the game on a goal from Ashley Herndon. The eventual game-winning goal was set up by a pass from Sydney Braun-McLeod, who had the ball off a quick restart. The freshman sent a pass across the field Herndon's way, who was able to slip it past Badana's left side.
For a Drexel team that now has just one goal in its last 725 minutes, one goal would be enough to come away with the victory. Braun-McLeod would later add an insurance goal of her own, and the Dragons wasted yet another strong effort from Badana, who made five saves.
Her five saves, though, were matched and exceeded by the Dukes' Ellen Forrest. The redshirt sophomore recorded her fourth shutout, continuing her strong season. It also would continue Drexel's losing streak, making it the first time since 2009 that Drexel has dropped four straight games.
Head coach Ray Goon saw the effort still being present, and he chalked it to the team just not catching a break.
"While there are things that we can improve upon from the match, I believe that we played well enough to win," he said. "The effort and chances were there. We're just not being rewarded right now, so we'll just have to keep plugging away at it."
The Dragons' scoreless streak is now at 475 minutes, and they are simply unable to get back into the game once they fall behind. Obviously, they haven't been able to get ahead, either.
Goon knows that his team is not the only one in the soccer world looking for an easier way to score goals. Meanwhile, they will keep trying to generate their shot opportunities and hope for some luck. With the way things have been going, they're more than due for it.
"If someone created an exact formula to produce goals, they'd be a very, very wealthy person right now," he said. "But since there is no such thing, we'll just have to keep on working at creating as many chances as we can each game and hope that the odds start to even out."
He thinks they're getting closer and is going off a great baseball player's philosophy for confirmation.
"Like Babe Ruth said, 'Each strike brings me closer to the next home run,'" Goon said.
Aside from injuries, the Dragons are trying to find a reason for the struggles, which Goon said have varied. It hasn't been one chronic flaw or poor way of playing but rather a new thing each game.
"We've generated restarts in our attacking third of the field in addition to ones through the run of play," he explained. "Sometimes the [goalie] makes a great save, sometimes the defenders clear it off the line, sometimes we just miss."
Now Drexel looks ahead to the final weekend of play at Vidas Field this season. The Dragons will welcome Northeastern University Oct. 11 at 7 p.m. and Hofstra University Oct. 13 at 1 p.m.
The Dragons are currently buried at the bottom of the CAA standings with an 0-3 conference record. They are joined by the College of Charleston, which is also winless. But only two teams, The College of William & Mary and Northeastern, have more than two wins. If the Dragons were to sweep this weekend's slate of games, they could quickly find themselves in the thick of things.
Goon is aware of his team's standings, and indicated the importance of picking up six points in the standings this weekend. He said the playoff picture will really start to take its shape after the weekend's games. That being the case, he expects a battle from both Northeastern and Hofstra.
"With the overall parody in the level of play throughout the conference, I don't believe anyone is feeling that they have a spot locked up after three games, so every team will definitely still be in full attack mode; nobody will be taking it easy," he said. "I expect both Northeastern and Hofstra to come in and be ready to battle."
Sunday's game will be extra special for a few Dragons. Seniors Andi Stampone, Sam Greenfield (though injured), Christine Stevenson and Jess Sarkisian will all be honored before the game as part of the traditional Senior Day. The weekend's games will conclude the home schedule at Vidas Field, and Drexel will look to avoid its first losing season at home since 2009.
Regardless of whether it's at home or on the road, Drexel needs to start stringing wins together. They now get their shot to put everything behind them, have an extended break from action, and get back at it on Friday with four full days of rest.