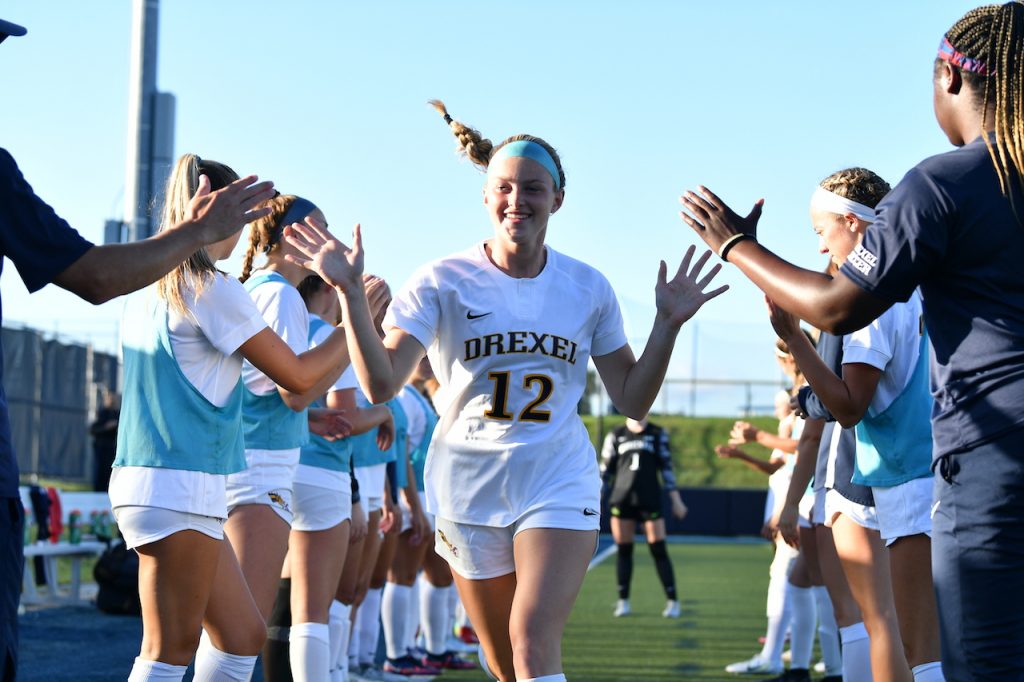 The Drexel University women's soccer team are in the final leg of their regular season and are showing a lot of potential to make a promising run into the playoffs this year.
The Dragons, led by Head Coach Ray Goon, are 9-1-5 this season with a 4-1-2 conference record and are in a three-way tie for first place in the Colonial Athletic Association with 14 conference points. They have already secured a playoff spot and wrap up regular season play at Monmouth University Sunday before traveling to the University of Delaware the following Sunday.
This marks a big turnaround from last season for the Dragons, who went 6-8-3 with a 2-5-2 record in the conference, giving them an eighth place finish in 2021. This year, the Dragons started their season with three straight wins and were unbeaten through ten games. One of their most dramatic wins of the season came against UNCW on Sept. 25, when sophomore Casey Touey scored the game-winning goal with a little over a minute left in regulation to beat the Seahawks 3-2.
Touey is one of the key members of the offense, along with junior Delaney Lappin and senior Annalena O'Reilly, who have scored the second most team goals in the conference this year. Touey and Lappin have both earned CAA Offensive Player of the Week awards this season. Lappin currently has scored the most goals in the conference this year (ten) and most points (23).
On the defensive side, leading the charge is Molly Piso, a junior from Hermitage, Pa. The defensive goalkeeper has 56 saves this season and took home CAA Co-Defensive Player of the Week honors the week of Aug. 29-Sept. 4, after recording her first collegiate clean sheet and saving 14 shots that week, including a career-high seven saves in back-to-back games.
Despite the fact that the regular season is almost over, there is still a chance the women's squad can secure a home playoff game in the CAA tournament. Cheer on the Dragons, as they try to make this season memorable with a CAA trophy. You can watch Drexel Women's Soccer games on Flo FC.