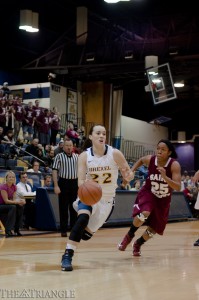 After watching their most recent practice, I believe that one thing is clear about the 2013-14 Drexel women's basketball team: They are nowhere near the caliber of the team that won the Women's National Invitation Tournament championship last year. They are a young, raw team trying to find out what type of team they can be.
After losing key players from last year, the Dragons have a void, not only in scoring but also in leadership. Taylor Wootton, Hollie Mershon, Renee Johnson-Allen and Nicki Jones are all gone, and, while she will not be asked to fill those holes alone, senior Fiona Flanagan will be asked to step up now that she is the most experienced returning starter.
Flanagan has been a steady contributor for the Dragons over the past three seasons, starting in all 36 games she played last season. Her game has been defined by her defensive skills and ability to hit shots from the outside. Flanagan finished third in the Colonial Athletic Association in three-point shooting percentage, with a 39.7 percent mark outside the arc.
Heading into the season, head coach Denise Dillon acknowledged that Flanagan's role on the team needs to change from what it has been in previous years.
"Obviously we need her role to change a bit more; she's looking for her shot. Besides being a great three-point shooter, she's learned to create a shot off the dribble," Dillon said.
Dillon said she knows what she will be getting from Flanagan on the defensive end of the court: "Her ability to guard both post and perimeter players is a must; her versatility on both ends is a must." She continued, "She is a great competitor and has great work ethic. With so many new players she just has to remain patient and things will work [themselves] out."
Flanagan was named a team captain for the second consecutive year and said she believes that her experience last year with a championship team will help this young team moving forward.
"It just showed us we know what we need to do to get things done, and we need to carry that over to this year," she said.
This year, the only other starter who will be returning is sophomore guard Meghan Creighton, who averaged 5.9 points per game last season. Flanagan, who averaged 5.4 points herself, said she believes she is capable of improving her scoring, which will go a long way in determining how successful the Dragons will be.
"I'm just looking to drive and kick more and [hit] my shots," Flanagan said.
While the senior knows that this team is different from last year's, she said she believes that they still have the ability to accomplish great things.
"It's still early; we are young and there will be a learning curve, but the work ethic is there and the desire is there," she said. "It's just a matter of figuring out the X's and O's right now."
The Dragons have only been practicing for a week, and much can happen between now and their first game Nov. 9. There have been several moving pieces and parts so far for the Dragons, but if the team expects to have a successful season, the stability and improvement of Flanagan will be a big reason why.