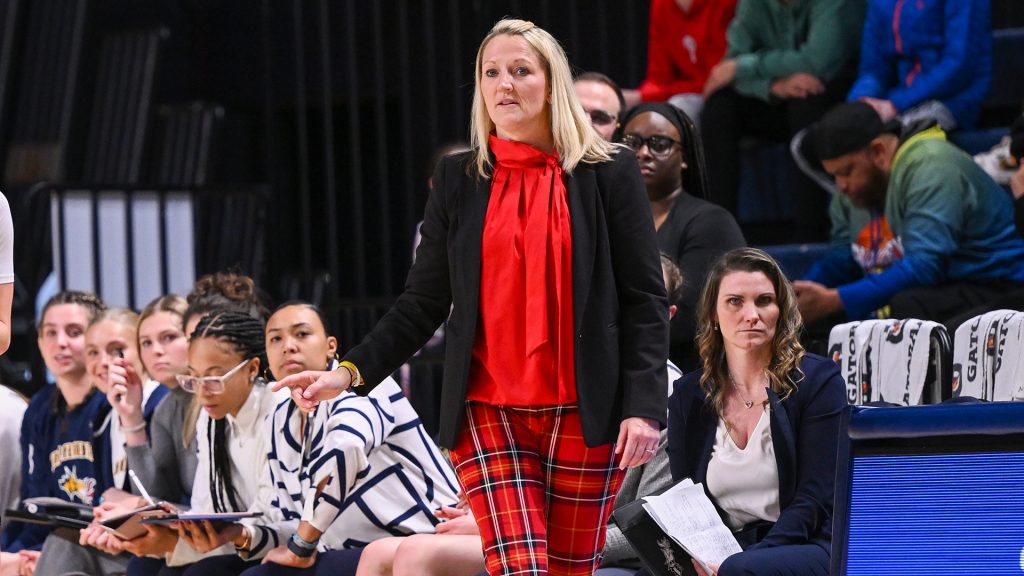 Drexel's Women's Basketball program has been a model of consistency. Since 2009, Drexel has been in the CAA Championship seven times, although they have won just twice. The roster has undergone many personnel changes, but the results stay the same. As Coach Amy Mallon prepares her team, the roster is once again taking on a transformation. Mallon's team was picked to finish seventh in the preseason coaches poll, something that has not happened since the 2009-2010 season. This prediction is due to the fact that Keishana Washington and the 858 points she scored last season can now be found on Team Canada or Torun, a professional team in Poland. Despite this massive loss, this Drexel team still should be expected to be more than competitive in the CAA.
Projected Starting Lineup: PG Grace O'Neill, G Amaris Baker, F Brooke Mullin, F Chloe Hodges, C Hetta Saatman
The 2022-2023 Dragons featured two true star freshmen Grace O'Neill and Kylie Lavelle. Lavelle got hurt after a hot start to the year and eventually transferred away from the program. O'Neill, however, was a 31-game starter for the Dragons, asserting herself as a gritty defender, rebounder and scorer. She was asked not to score a ton of points, as is the case when you can just pass the ball to the third-highest scorer in college basketball, but this year that will not be an option. The Dragons need O'Neill to run point and score the ball with consistency this season, and her coach believes she will thrive in this role.
Drexel needed to replace Keishana Washington this season, but Caitlin Clark wasn't hitting the portal so that was impossible. Instead, Amy Mallon recruited the Washington of Division II basketball, Amaris Baker. Baker scored 27 points per game at Harcum College and grabbed almost seven rebounds a game to pair with it. While Baker did this at a lower level, the expectation is that she is a more than capable scorer, and she will be asked to be a main driver of the Dragons offense night in and night out.
After four years at Villanova, Brooke Mullin decided to transfer to the only real Philadelphia school that plays on Lancaster Ave. Mullin was an integral part of Villanova's team over the past four years, averaging four assists per game. At Drexel, Mullin will have a license to score the ball for the first time, and with her height and talent she should be a swiss army knife of an offensive weapon for the Dragons.
Chloe Hodges was finally healthy for the second half of last season, and by the end she had solidified herself as Amy Mallon's best offensive weapon off the bench. Now, she will be in the starting lineup and will have to be a threat from the opening tip until the final buzzer. At six feet tall, she can use her body to create buckets down low, but she also has a clean mid-range shot.
Hetta Saatman, in her final year, will look to build upon her quality from the previous season. The center for this team, Saatman was a key interior defender and rebounder. She also contributed nearly six points per game, but she too, will need to score a bucket or two more per game for this offense to be dangerous.
Key Reserves: F Jasmine Valentine, G Laine McGurk, G Momo Laclair, G Erin Sweeney
Jasmine Valentine has been a strong player for the Dragons her entire career on Market Street. She is a strong rebounder, a menace in the low post, and brings height and grit on both sides of the ball. She will be asked to increase her role again this season, and she is a trusted face for Mallon to turn to.
Laine McGurk is Drexel's most prominent freshman face, and it would shock nobody to see her in the starting lineup early in the season. McGurk is 5'10" and almost averaged a 23-point double-double in her senior year at West Chester Rustin High School.
"She can really really really really score the ball and you're going to be seeing a lot of that in the future, but she is a freshman and will need some time to adjust to the college game," says Mallon.
Outlook: What makes this season an unknown is that the players themselves are unknown. Each of them is going to be asked to do something that they've never done before: score the ball consistently at the CAA level. The question is, who will step up?
"I compare them so much to our 2018 team that won the regular season championship and played in the NCAA Championship game. We had lost three starters, some one thousand point scorers, all of our leaders, and then we went out and won the regular season title behind a player Kelsi Lidge who said 'You know what? Nobody thinks we can do it this year let's go out and do it.'"
While it is romantic to think that Drexel will be able to have a rotation of players with limited experience win a regular-season championship, it would take a lot of work to bet on. The pedigree of this program should never be counted out, but it will take players like McGurk and Baker proving that they can step onto a Division I court and score at will as they have done elsewhere. Grace O'Neill will have to take after her new assistant coach and former Drexel basketball star, Hannah Nihill, and be a stud on both sides of the basketball for Drexel to seriously compete for a CAA Championship this year. I won't bet against them though.