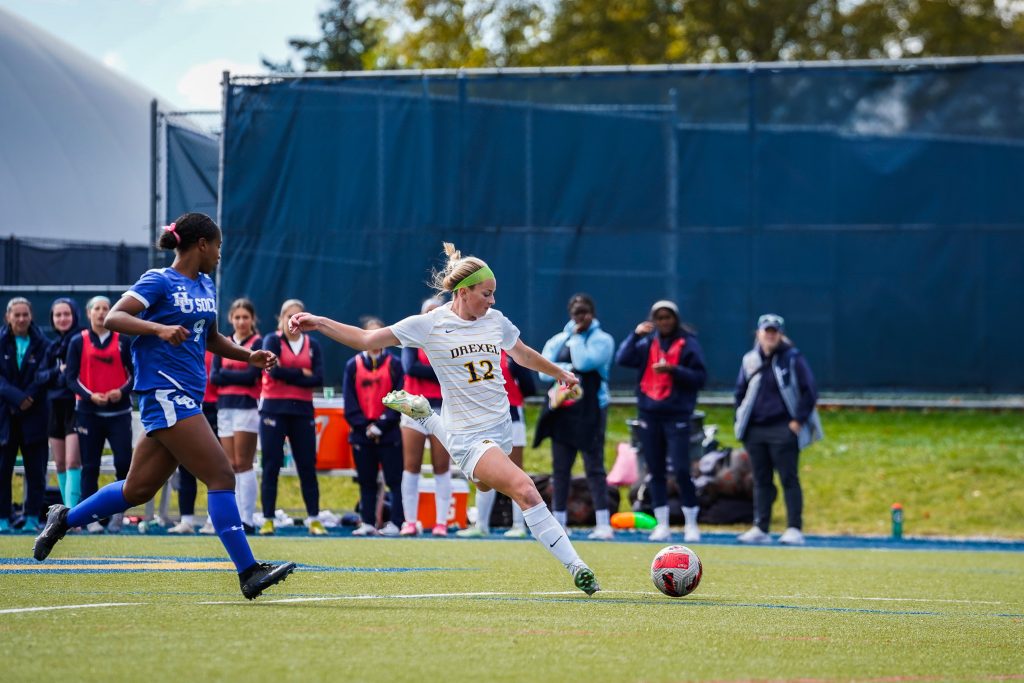 In the last game of the season, Drexel women's soccer crushed Hampton University by a score of 8-1. In the game, Drexel forward Delaney Lappin scored one goal, assisted four, and made Drexel history.
After a disappointing season with an overall record of 7-8-3, it was already clear that Drexel would have no chance of making it to the CAA playoffs coming into their final conference matchup on Oct. 22. Regardless of that, Coach Ray Goon's team wanted to finish off the season. Drexel won both of their last two home games against UNCW (University of North Carolina Wilmington) and Hampton. Especially their last game against Hampton is one that will be remembered for a while at Drexel.
The 8-1 victory was not only Drexel's third-highest win of all time, but senior forward Delaney Lappin also made history in her last-ever game for the Dragons. With four assists and one goal against Hampton, Lappin broke Drexel's all-time record for the most scored career points. In four years playing for Drexel Lappin scored 24 goals and had 16 assists.
"It was a great four years here; it was a great experience. It is so awesome to go out this way, go out strong. The record on top of that is just the icing on the cake," said Lappin looking back on her time as a Drexel soccer player.
Overall Drexel is going to lose 13 seniors for the upcoming season including key players like Delaney Lappin, Annalena O'Reilly, Emma Goodrow, Molly Piso and Isabel Kuzy. Drexel head coach Ray Goon has the challenge to fill these gaps and to form a new team that can compete in the CAA.