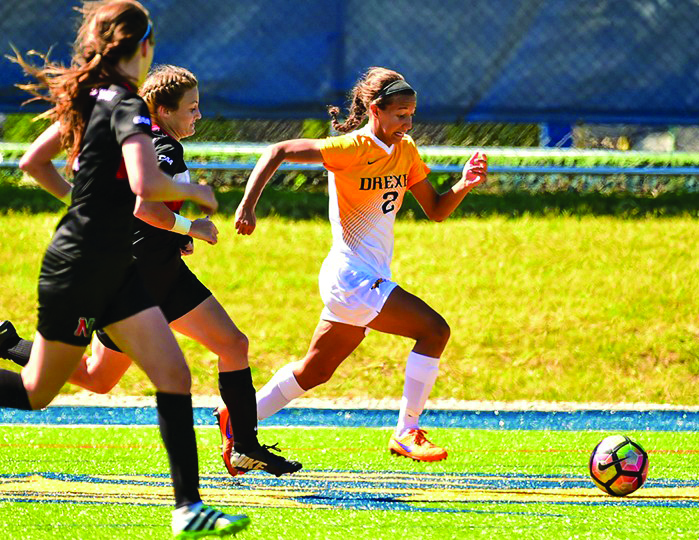 The Drexel University women's soccer team closed out their road trip with a tie Oct. 14 and a loss Oct. 16.
"Playing on the road is always challenging because it takes us out of our comfort zone, our regular routine a bit.  I feel that we've done a pretty good job staying focused, but as with most things, we can still do better," head coach Ray Goon said.
The women battled to a scoreless draw with the Elon University Phoenix in double overtime Oct. 14.
Each team got off four shots in the first half of regulation. After the halftime break, Elon controlled possession but was not able to get past the Dragon defense and junior goalkeeper Christiana Ogunsami.
Drexel had a few opportunities to score towards the end of the second half but couldn't break through. Sophomore Vanessa Kara got the first opportunity when she beat a defender, but she shot the ball high. She made another attempt shortly after. However, the shot went wide.
With less than eight minutes remaining in regulation time, freshmen Laura Hamilton and Shaelyn McCarty both had strong scoring opportunities, but Phoenix goalie Katelyn Fowler locked down in goal to keep the game scoreless.
Drexel came out strong in the first overtime period and outshot Elon 3-0. However, none of Drexel's attempts reached the net and the game remained scoreless as a second overtime began. Both teams could not manage a game-winning goal and the final score was 0-0.
"What generally happens as we get further into conference play is that opposing teams have ample opportunities to have scouted us and know our tendencies.  We will need to recognize sooner what is working and what isn't working, the game will always tell you what you need to do," coach Goon said.
The Dragons had 16 shots on the day, while the Phoenix had 15. Ogunsami had three saves during the contest, while Fowler registered nine.
The Dragons dropped their second game of the weekend to The College Of William & Mary  in a close 2-1 loss. Kara registered the lone goal for the Dragons, her sixth of the season.
The Tribe scored in the seventh minute to take a 1-0 lead over the Dragons.  They improved their advantage to two goals in the 36th minute of play, and the score remained 2-0 going into halftime.
In the second half, Kara dribbled around the keeper to score scored for the Dragons offan assist from junior Madison Dunn Despite a good effort, the Dragons could not recover from the deficit in the time remaining.
William & Mary took 16 shots while Drexel had 14 attempts.
"All conference games are big, but playing Delaware has a little more meaning behind it. We're travel partners within the conference and share scouting reports regularly, so in one sense they're an ally. But on Sunday, they will be viewed as an opponent standing in our way of playoff implications and a chance to play for a CAA Championship, so I know our team will be fired up to play them," said Coach Goon.
The Dragons record is now 8-6-3, and 4-2-2 in Colonial Athletic Association games.
Drexel's final regular season game will be at Vidas Field Sunday, Oct. 23, against the University of Delaware.