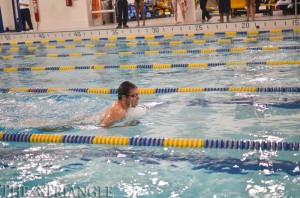 Thirteen is widely recognized as an unlucky number.
But that wasn't the case in the men's Colonial Athletic Association swimming championship, as the University of North Carolina Wilmington claimed its 13th straight title March 1. Meanwhile, the Drexel men's swimming team finished fifth out of six in the tournament, with 422 points.
After the first day of the championships, the Dragons sat in third place, claiming silver and bronze medals while breaking a few school records in the process. The day was highlighted by the 200 meter medley featuring senior Alex Bagshaw, junior Chad Schmidt, sophomore Kyle Lukens and sophomore Joel Berryman claiming a bronze medal and swimming to a new school record of 1:29.22 in the process.
Sophomore David Sanchez highlighted Day 2 of the competition, winning the silver medal in the 1-meter dive with a score of 320.95. The team added another bronze medal to its collection on Day 3, when Lukens finished third in the 100 butterfly final.
In the fourth and final day of the competition, freshman Zoltan Gercsak broke the school record in the 1650 free with a time of 15:46.68, which also happened to be a personal best. After the four days, Lukens finished with the most points on the team with 44, followed by junior Mike Krohn with 35. The men's team overall record on the season is 8-2, with losses being split both home and away.
On the women's side of the competition, Towson University claimed its second consecutive CAA women's championship.
For the Dragons, sophomore Madison Kramer was absolutely on fire throughout the whole tournament. On Day 1 she netted a silver medal in the 3-meter dive, scoring a 351.85.
Junior Brianna Bentz highlighted Day 2 of the championships when she clocked in 23.54 in the 50 free preliminaries and finals. Day 3 saw yet another silver medal netted by Kramer, this time in the 1-meter dive with a score of 306.55.
Freshman Rachel Bernhardt missed out on medaling in the 100 breaststroke by finishing fourth, but she tied her own personal record with a time of 1:02.08. Bernhardt also highlighted the final day by swimming the 200 breaststroke with an outstanding time of 2:18.61. The women's swim team headed back to Drexel, having finished in eighth place at the CAA championships.
The Dragons finished up with a 6-5 record, including going 3-1 at home. The team combined to snatch up five silver medals along with two bronze medals in the tournament.
Head coach Shawn Markey emphasized the fact that most athletes have set personal records and that they should continue to do so by peaking at the end of the year. With most of the athletes on each team being sophomores and freshmen, a bright future is expected in the next couple of seasons, including challenging for the CAA championship next year.