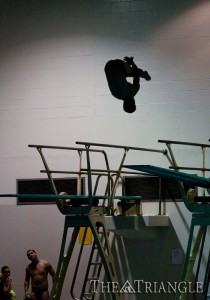 The men's and women's swim teams had a strong meet last weekend, Oct. 22, when they split with La Salle. The men came in off an opening win against Widener and then beat La Salle for the first time in eight tries. The women, who were also coming off a strong opening win at Widener, swam well but could not come up with a victory against the Explorers.
"We began getting race-ready much sooner this season," head coach Shawn Markey said. "Typically our early season consists heavily of base yardage and long swims. We started sprinting three weeks ago in practice, and it is definitely paying off."
La Salle is typically a very strong opponent, so the men's win has shown how far the team has come over the last few years. The new practice strategy has worked out at the start of the season. Now it is time to see if this practice will help the team over the long term.
For the men, three freshmen had outstanding races. Alex Galinskiy won the 200-meter freestyle and 100-meter free. Chad Schmidt won the 100-meter breaststroke and 200-meter individual medley. John Quagliariello won the 100-meter backstroke and 200-meter backstroke.
Other strong performances came from David Boodey, who won the 500-meter freestyle; Mike Krohn, who won the 200-meter butterfly; and Andrew Reimon, who won the 200-meter breaststroke.
La Salle's women are a very strong group, and even though Drexel was able to pull out a few races, they could not end their long drought against LaSalle.
"La Salle has been a stronger team historically," Markey said. "The men hadn't beaten La Salle in eight years, and it has been at least twice as long for the women. However, our women responded strongly to a very experienced La Salle team as they won multiple events and both relays."
For the women, Lauren Faykes was a key swimmer. She was part of the 200-meter medley relay team that broke the Drexel Pool record. She also won three individual events — the 100-meter butterfly, 200-meter butterfly and 200-meter individual medley. Another strong swimmer was Devina Tyagi, who won the 50-meter freestyle.
The team looks to continually improve throughout the season, and they are looking to pick up speed in a few different areas. Leading into their next race Nov. 5 against George Washington, they are working on their turns.
"This is a constant process," Markey said. "The main goal is our [Colonial Athletic Association] championship meet. Anything else leading up to that point is training and perfecting skills. A major improvement for us short-term is working on better starts and turns.
"It is still very early in the season for us, and our starts and turns are still a little slower than I would like them. We will be spending some time improving those two aspects to help us drop more time against George Washington."
As Markey pointed out, George Washington is improving and is a very formidable opponent.
"George Washington's swim program has grown tremendously in the past two years," he said. "They have a very strong and young group, as well as very experienced upperclassmen. They are definitely a much tougher team to beat this year than in the past two years, but if we work out a good meet strategy, both the men's and women's meets will come down to a close finish."