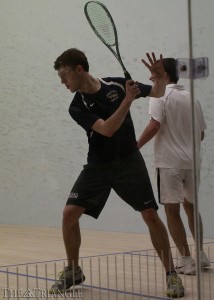 The Drexel squash teams commenced their 2013-14 campaign Nov. 16, with mixed results. The men's team split its first two decisions, while the women got off to a perfect start, picking up a shutout victory.

The men started the year falling 5-4 at the hands of the U.S. Naval Academy in Annapolis, Md. Drexel received winning sets from Ibrahim Bakir, Michael Thompson, Joey Gingold and Nat Fry at 1, 3, 7 and 9, respectively. Freshmen Fry and Thompson were victorious in their first career college sets. Navy, however, was able to sneak by with an extra set and defend its home court.

In their second match of the season, the men would see much-improved results. All nine Dragons were victorious in their sets against Georgetown University. Bakir, Justin Singh, Thompson, Sebastian Dangond Gala, Noel Solomon and Ben Bevan won the first six spots of Drexel's ladder. Fry, Harshil Dokania and August Crofton won the final three spots to put an exclamation point on a clean sweep for the Dragons.

Just like the men against the Hoyas, the women also rode a 9-0 sweep to achieve their first victory of the season. Drexel was able to dominate Johns Hopkins University and take every set as the teams played at the Naval Academy, a neutral site for both squads.

The women were led by Damindhi Udangawa, who won the No. 1 spot on the ladder for Drexel. Mary Fung-A-Fat and Elisa Money, who were ranked second and third, respectively, each won their collegiate and team career sets.

The victory for the women marked the first time in the program's thee-year history that Drexel got off to a winning start.

Each Dragons squad will look to build off their first victories and put a winning streak together when they open their home schedule at the Kline & Specter Squash Center on Drexel's campus. The two teams return for lengthy homestands, with each set for four home contests. The four matches will be their only home dates before winter break.

The action will begin Nov. 22 at 5 p.m. against Franklin & Marshall College. For the rest of the weekend, the schedule will feature Cornell University Nov. 23 at 2 p.m. and Williams College Nov. 24 at 10 a.m.. Both the men and women will face off with their counterparts in each of the three matches.