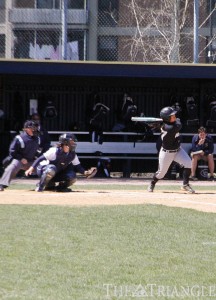 On the heels of an outstanding season and career, capped off with her fourth First Team All-Colonial Athletic Association selection, senior catcher Paige Collings will ride off into the sunset with a bang.
Collings finished her Drexel softball career as the Dragons' all-time leader in home runs and RBIs. Even with such high accolades, she is humble and keeps those achievements in the back of her mind.
"I didn't even realize it when it happened," Collings said. "I knew at the beginning of the year that I was close to the record, and it was just lingering in the back of my head. I was just trying to get it out of my mind to stop worrying about it. Then I started hitting a lot better, and when it happened I didn't realize it until after the game when they announced it. It was a pretty awesome feeling."
But even as one of the most decorated Drexel softball players, Collings wasn't so sure she was going to make it as a freshman.
"When I first came in as a freshman, I was really nervous and anxious," Collings admitted. "I didn't really know what to expect. There was a girl that was two years older than me that was their starting catcher. [She was] First Team [All-CAA], rookie of the year — she was really good. I was nervous that I wouldn't get much playing time because she was so good and decorated."
The catcher Collings referred to is Ashley Botelho, who graduated in 2010. Botelho is the Dragons' all-time hits leader (197) and career batting average leader (.365). Botelho is the same player who Collings overtook for the home run and RBI records.
"She took me under her wing and showed me the ropes," Collings said. "We became really close, and we're actually still pretty good friends today. I think that helped me along the way. People like that definitely made the experience easier and a lot more enjoyable for me."
Even after all of the success Collings has had at Drexel, softball wasn't her first sport as a child. Growing up in Delta, British Columbia, just 30 minutes outside of Vancouver, softball was hard to come by with no Major League Baseball team and very limited softball coverage.
"A lot more youth is involved in hockey and baseball where I'm from," Collings said. "I didn't even like football that much. I liked hockey a lot more."
Collings' father and two older sisters introduced her to the sport. Collings said she used to be around the field while her sisters played.
Collings has taken her experience of being mentored by Botelho and used it to mentor underclassmen this year.
"We [the seniors] tried to take in the freshman and underclassman and make them feel more welcome," Collings said. "Last year we had a freshman catcher come in. At that point I was a junior and the only catcher on the team, so I tried to kind of show her the same thing [Botelho] did for me. I tried to show her [the ropes]."
Collings and the other seniors have important core values that they want to pass on to the women who will be still playing here next year.
"We want them to hold up the reputation of the softball team," Collings said. "[We are] hardworking, determined, working hard on the field and also in the classroom because we've had a good team GPA overall for the past four years. We want to instill those values in the younger girls."
As for what's next for Collings, she wants to take a year off from the game and see where it takes her in the future.
"I'm going to take a little bit of a break," Collings said. "I'm going to give my body a rest because I have some lingering injuries, so I'm going to take a year off, and we'll see if I want to come back [to the game]."