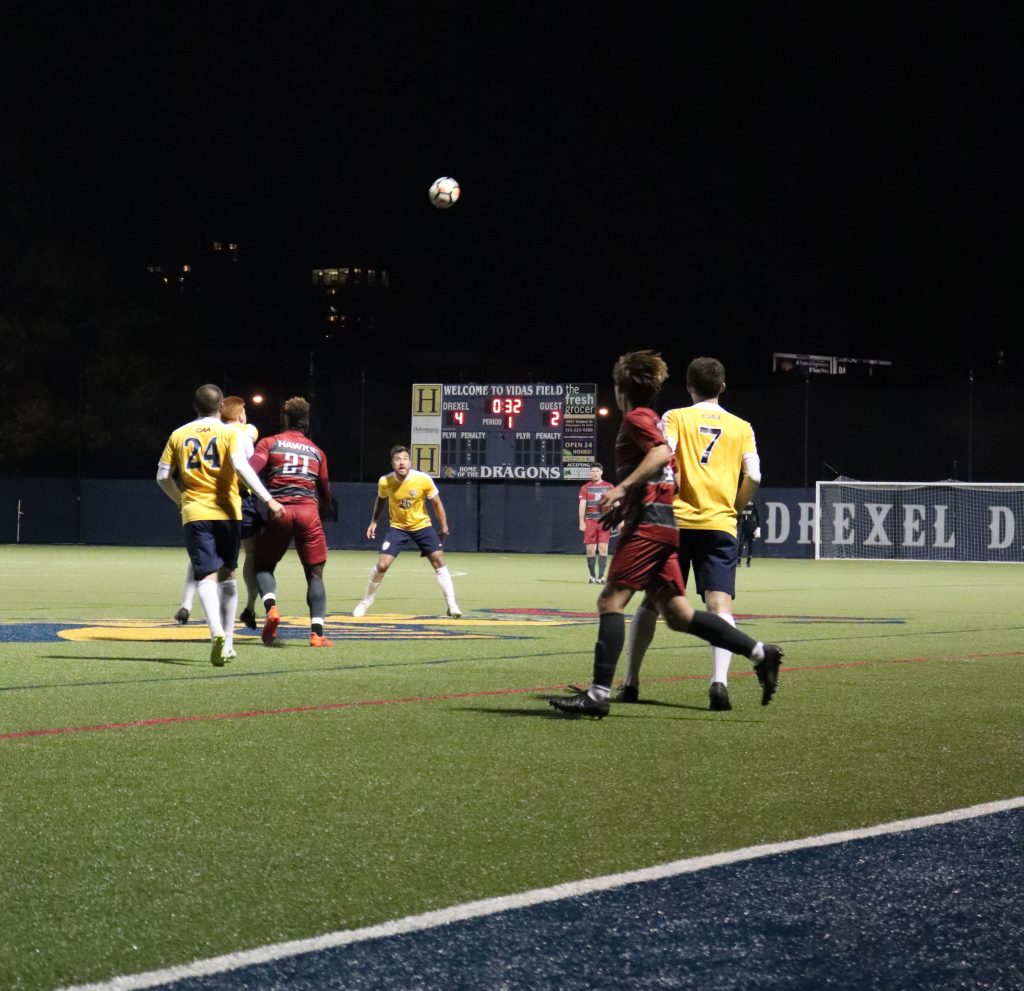 When Michael Marchiano stepped down as the head coach of Drexel Men's Soccer program to accept a job as Head Coach at Loyola Blakefield High School in Maryland less than a month before the fall sports season began, it would not have been irrational to think the move portended a season of challenges.
However, two-thirds of the way through the season, the Dragons have only one loss and are in the midst of putting together one of the strongest seasons in recent memory. New Head Coach Mark Fetrow has brought a winning attitude to the program, and momentum is at an all-time high for the team. Men's soccer has not won a championship since the 2013-2014 season. Fetrow is looking to change that.
Fetrow officially joined the program about a week before the Men's soccer team began their preseason. He was immediately given a rundown on the team and got to work building connections with the players and staff, listening to their opinions on what changes would help the team take the next step as a program.
Despite this whirlwind first week on the job, Fetrow says that through getting to know the players both on and off the field something crucial happened early on:
"We were able to build a sense of family around our culture and everything that we do."
Those good vibes that Fetrow's program established early on have translated into good results on the field for the Dragons. The team has shown a penchant for grinding out ties and snatching victories from the jaws of defeat.
"There's no quit in the group no matter what circumstance or what the situation is in the game that we're playing. The guys never give up. There's a lot of belief that if we're down a goal, we're gonna come back and get one," commented Fetrow. "If it's a tie game, we're gonna get one at the end of the game. The last 15 minutes of every game that we've played have been full of emotion and excitement. This team has so much courage and is so brave, we don't lay down for anybody."
While sometimes Fetrow would like to enjoy a relaxing victory, he said that the thrilling matches the Dragons have experienced this season are opportunities to learn as a team.
"We've been on both sides of it, I think back to when we played at Monmouth and we gave up a goal in the last 20 seconds of the game… but then against Campbell, we got a goal late to get the win. We're learning how to manage moments and stay connected at the end of games," said Fetrow.
Fetrow added, "I don't think we've been the best version of ourselves yet. We have a really high ceiling that we haven't got to, so I'm excited to continue to steer the group in a direction where we can maximize our performances, but we've done enough to set ourselves up for a good start."
Entering the final month of the season, Fetrow sees massive postseason potential in his team.
"I think we have enough to compete for a conference championship and I want this team to experience an NCAA tournament. We've been to the CAA tournament Semi-Finals the past three years so I want to take that next step and compete in a final and win a championship," added Fetrow. "I think that would be important for both our players and the progression of the program. We haven't been to the NCAA tournament since 2013 so I think it's time for us to get back there and experience that."
If the Dragons can keep up their current form, the road to the NCAA tournament has a good chance of coming through Vidas Field at some point. For Drexel, Vidas has a true home-field advantage.
"Vidas isn't the easiest surface to play on and when you get to train on it every day, it makes you better as a player. We love playing at home, we celebrate Vidas. We would love to host the CAA tournament at Vidas. I think it's hard for other teams because, from a soccer standpoint, it's not the easiest surface to play on so when opponents come in with limited time to train on it, it takes some time for them to get used to it during the game and that's a competitive advantage for us," Fetrow commented.
As the Dragons prepare for a massively important homestand, Fetrow says the team is feeding off support from fans, and hopes to see even more students come out to games this month.
"I love the excitement that's surrounding the program right now," said Fetrow. "We have three home games coming up in our next three games so I hope we can get some good crowds and support from our student body."
The Dragons play rivals Delaware on Oct. 7 at 1 p.m. at Vidas Field, followed by a 5 p.m. game against Lehigh on Oct. 10. It is free for students to attend, and all students can take the Drexel Shuttle to Vidas from the bus stop outside of the DAC.