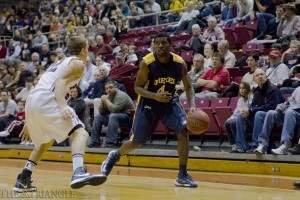 The men's basketball team announced its schedule for the 2013-14 season Oct. 2, and it looks both promising and challenging.
The Dragons kick off the schedule with road games against the University of California, Los Angeles and Illinois State University, a one-two combination of talented, out-of-conference opponents, in the second week of November.
A big-time, big-name program like UCLA may seem intimidating to a mid-major like Drexel, but head coach James "Bruiser" Flint seems relatively calm about his team's first game of the season.
"[Playing UCLA] is no big deal," Flint said. "We play schools like that all the time."
Besides challenging his players early, Flint also revealed an alternative reason for the November trip to California.
"I've always wanted to play and coach at Pauley Pavilion, so that's why we're going out there," Flint said with a smile.
Playing the Bruins in their own house will certainly be a special moment for Flint and the Dragons; beating them, however, would be an epic one.
With new head coach Steve Alford taking over for Ben Howland, the UCLA program is transitioning — but in a powerhouse sense, not a rebuilding sense.
While the Bruins lost superstar Shabazz Muhammad to the NBA Draft, they retained Jordan Adams. In Muhammad's shadow last season, Adams put up an impressive 15.3 points per game, shooting 84.3 percent from the free-throw line. Drexel's Frantz Massenat and Damion Lee will have their hands full trying to keep Adams in front of them as he tries to take the next step toward stardom this season.
And Flint couldn't have scheduled a better first game of the season. Beyond getting the juices flowing, there's a little bit of Colonial Athletic Association gamesmanship going on here. Last season, James Madison University started its season on the road against — you guessed it — UCLA. The Dukes went on to win the CAA championship and made it to the Round of 64 in the NCAA Tournament.
This season, the Dragons hope that their auspicious beginning leads to a successful end.
However, there are a number of other, more statistically significant trips to be made after leaving California.
From there — after their pit stop against Illinois State in Normal, Ill. — the men will travel to Piscataway, N.J., for the annual National Invitation Tournament Season Tip-Off. The first game of the tournament for the eighth-seeded Dragons is Nov. 18 against sixth-seeded Elon University.
If they defeat the Phoenix, the Dragons will play the winner of Rutgers University vs. Canisius College. If they lose, they play the loser of that same matchup. If they manage to win both games, the Dragons will take on the winner of the West region (presumably the University of Arizona) at Madison Square Garden Nov. 27.
The tournament concludes two days later with the championship game at the Garden, potentially against a big-time program like Duke University, The University of Alabama, or a powerful mid-major like East Carolina University or former CAA member Georgia State University.
Flint, while acknowledging the allure of New York City, said he does not want to make the tournament out to be bigger than it is.
"They're regular games," Flint said. "So we're [going to] go out and play them like we usually play."
These early games will be important stepping stones for the players and showcases for the coaches when deciding how to allocate playing time. When asked about the progress of his team in its first full week of official practice, Flint said he was subdued.
"[Practice] was all right," Flint said. "The freshmen, they've been all right; they've been typical freshmen. Can't complain."
When asked if his team has much to improve on before the Nov. 8 game against UCLA, he showed a little more of his hand.
"Yeah, just a few things," Flint said with a laugh.
And work they will. Once the NIT Tip-Off is over, the Dragons have an active finish to their out-of-conference slate.
They will play Cleveland State University and Tennessee State University at home to open the Daskalakis Athletic Center's 2013-14 campaign in the first week of December before traveling to North Carolina to face Davidson College in a tough road test.
After losing their top two scoring guards to graduation, the Wildcats shouldn't have an answer for Drexel's three-guard game. That doesn't mean that it will be a cakewalk, though; in college basketball, almost nothing is.
Then, eight days into 2014, the Dragons' CAA schedule begins with a trip to Williamsburg, Va., to face a College of William & Mary team that is widely seen as a dark horse to challenge for the CAA title this season. The Tribe retains all four of its top scorers from last season, including Marcus Thornton, the second-highest scoring guard in the conference last season. The Tribe should present a good litmus test for the Dragons as they wet their feet in CAA play.
After the Tribe, the Dragons come home to face Northeastern University and conference favorite Towson University back-to-back at the DAC. These will both be challenging games, but especially the second of the two, which features the Tigers, the best team in the conference and Drexel's main competition this season.
"They were picked to win the conference, so they're [going to] be the team to beat," Flint said of Pat Skerry's Tigers. "They've got a very good team."
A very good team that includes 2013 CAA Player of the Year Jerrelle Benimon, who poses a serious threat to Drexel's inside game.
Dartaye Ruffin, Mohamed Bah and company are serviceable in the paint, but Benimon is a frightening sight on the boards and down low. It will take a team effort to slow Towson down and get a win, one that would be a statement to the Tigers and the rest of the conference.
Flint, however, doesn't want to look ahead right now. He knows how good Towson is. But it's only October.
"We're thinking about making it through practice; we're not thinking about matchups right now," Flint said when asked how his team might stack up against Towson. "Honestly? You could talk to me two days before we play them and I still won't know."
Yeah, they're that good.
However, after this three-game stretch to start the CAA schedule, Drexel's slate is exceptionally forgiving.
Games against schools like Hofstra University and the University of North Carolina Wilmington break up streaks of games against more formidable opponents like the University of Delaware and conference newcomer College of Charleston. In fact, until the last three games of the season, the Dragons shouldn't face a streak of more than two games in a row against top-flight CAA squads.
The season-ending trio of games with Delaware, CofC and Northeastern could be a crucial stretch of games, the most important of which will be against Delaware, the Dragons' archrivals.
Delaware has the best pure scorer in the CAA, Devon Saddler, and another potent — but inconsistent — source of buckets in Jarvis Threatt. The Blue Hens lost their best post presence with Jamelle Hagins' graduation, but they should still compete at a top-four level in the conference and could be pushing the Dragons for positioning at the end of the season.
Of course, this is all speculation. We are less than a month away from Nov. 8 at UCLA, and once the games begin, all preseason analysis is thrown out the window. If the games were just played on paper, Drexel would've gone 25-6 last season and earned a spot in the Big Dance. In the end, they were far from it.
That's why they play the games.