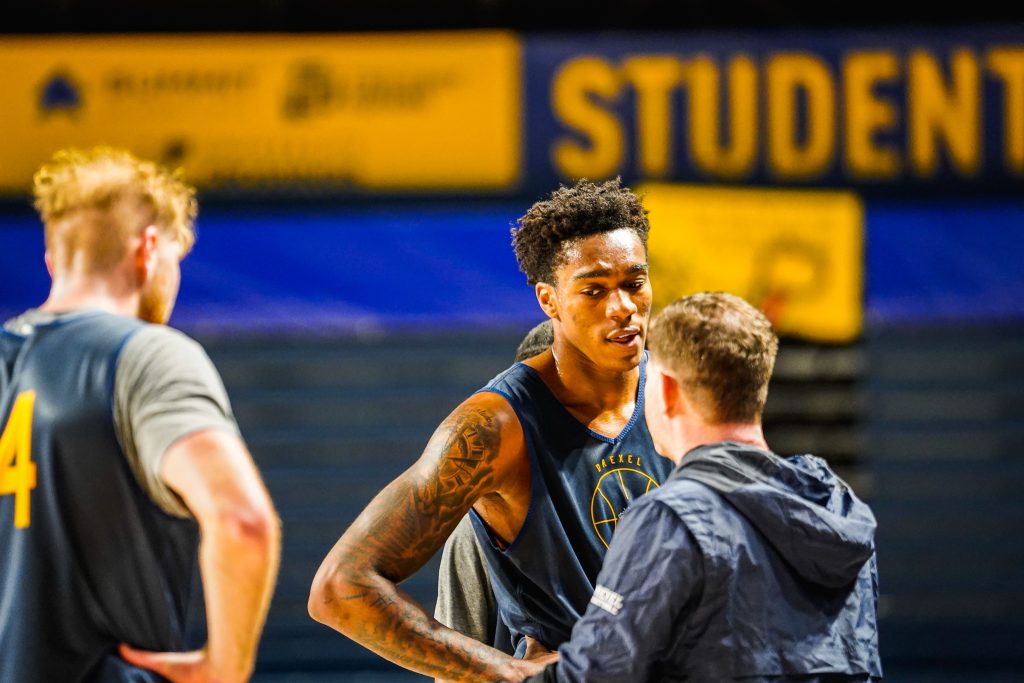 In his eighth year, at the helm of the Drexel Men's Basketball program, the team is looking like Coach Zach Spiker's strongest roster ever. And in the transfer portal era where seldom few teams have demonstrated an ability to keep homegrown talent, Coach Spiker has excelled at it. In fact, Drexel joined the likes of Duke and Florida Atlantic University as one of only five teams in the nation to not lose a single player to the portal.
If you have seen any Drexel men's basketball previews, you know that they are bringing back 86% of their points from last season and only graduated one player in Coletrane Washington. It should not be understated that the Dragons have a veteran roster, but the quality of the roster is being massively overlooked.
Projected Starting Lineup: PG Justin Moore (9.6 ppg), G Mate Okros (4.9 ppg), G/F Lamar Oden Jr. (8.7 ppg), G/F Luke House (8.7 ppg), C Amari Williams (13.7 ppg)
While nothing is set in stone, Coach Spiker indicated that his starting lineup will be the above. Any lineup that has Amari Williams in it should be a generally successful one. Williams cemented himself as the CAA's best defensive player, winning his second Defensive Player of the Year award, while averaging almost 14 points per game. He did all this while battling nagging injuries, Spiker informed The Triangle.
While Williams' offensive game has grown in leaps and bounds since he joined the program, he will improve even more with a full year of Justin Moore running the point.
According to Spiker, "[Moore] wasn't really healthy from Italy on last year, and probably was trending towards a Rookie of the Year campaign before he wasn't able to finish out the month of February."
Spiker is right, Moore was certainly establishing himself as one of the best rookies in the conference, highlighted by his dominant performance to topple the 18th-ranked team in the nation, Charleston. An offseason of building a more Division I-ready body and honing his shot could elevate Moore's status as he is being overlooked by many prognosticators heading into his second year.
Luke House is a player that Coach Spiker simply adores. After playing one year at the Division II level, joining Drexel as a walk-on, and now proving himself as one of the most effective shooters in the CAA, House has forced his way into the starting lineup.
House is a sharpshooter from deep, and, in Spiker's words, "has an uncanny ability to use his body and score the ball…a very effective player."
House's athleticism will not blow anybody away, and if Drexel is relying on him to do much more than be a shooter who brings a ton of grit to the table then they may be in trouble. However, so long as he remains a complimentary piece to Moore and Williams, he is one of the best third options a team could ask for.
Lamar Oden Jr. is entering his senior year for the Dragons and they are hoping he has put it all together this offseason. Oden has shown periods of talent in every facet of the game. He is a staunch defender and a strong rebounder. He can get to the rim, catch fire from three, and even dish out assists. The issue with Oden has been his inability to do all of those things repeatedly throughout a season. After shooting 44% from three in 2021-2022, Oden cratered to 30% last season. If he can regain his stroke from deep while continuing to attack the basket, Oden will be a key cog for the Dragons.
Mate Okros joined Drexel as one of the program's most highly touted recruits. Coming out of England, Okros was a dynamic scorer who brought length and size to the guard position. Okros has been a clinical shooter his time at Drexel, with a career percentage of 39%, but he has lacked aggressiveness on the floor and too routinely passes up threes if they are not wide open, and rarely attempts to attack the basket. Okros also started the previous season in the starting lineup but lost his starting spot to House just before the non-conference portion of the schedule closed. If Okros does not assert himself as a consistent threat in the starting five, Spiker should be quick to update his lineup with one of the many other capable players that fill his reserves.
Key Reserves: PG Jamie Bergens, Game Butler, F Garfield Turner, G Kobe Magee, G Shane Blakeney
The Dragons are a very deep team. Yame Butler probably should be starting on this team, and he most likely would be starting on any other CAA team. When both Justin Moore and Jamie Bergens got hurt last year, Butler stepped up as the third-string point guard — which is not his natural position — and averaged 20 points, nearly single-handedly carrying Drexel to massive wins over Towson and Northeastern. Butler is as gifted a scorer as there is on this team, and he can attack the basket like almost no other player on the roster. It would surprise nobody if Butler is in a starting position at some point this season.
Bergens and Turner both joined the program as transfers last season and both brought great veteran presence to the floor when Williams or Moore were resting on the bench. Both are very serviceable players who bring a different type of style than the players in front of them, making it hard for opponents to adjust when these reserves get the sizable amount of run that they can expect to get.
Magee and Blakeney fall under the category of "Let's see what you've got." Magee played in 23 games off the bench but never asserted himself as much of a scorer. He is an immensely athletic player and demonstrated some potential that can be built upon. Blakeney was a big recruit out of High School, known as a scorer who can create his own shot. Both players will hope to show their merits off the bench and carve out a larger role throughout the season.
Newcomers: G/F Lucas Monroe, G Horace Simmons
Monroe, a grad transfer from the University of Pennsylvania, has switched allegiances to the superior side of Market Street. Spiker heralds Monroe's ability as a rebounder who can grab a board and then immediately take the ball up the court. In addition, Monroe is a 70% free throw shooter.
Simmons was a highly touted high school player, accruing offers from Marquette, UPenn, Saint Joseph's and high conference schools, but he ultimately chose to come to Drexel. Spiker has spoken very highly of Simmons, but with such a crowded rotation it will be up to him to force his way into consistent minutes.
Outlook:
Drexel enters this season with the most expectations of Zach Spiker's tenure. They have the right talent in the right circumstances to be a dominant team this season, and if they are unable to do so it will be a massively wasted opportunity. Drexel will first seek to establish themselves as champions of Philadelphia before they move on to attempt to conquer the CAA.
"We're excited. Nothing is guaranteed. We want to have success, and success is never owned by any one player, team or program, you gotta rent it every day. You have to earn it and that's what our focus is: renting success every single day," said Spiker.