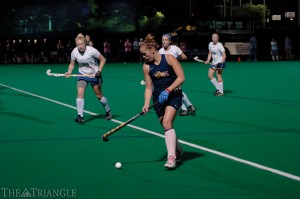 The Drexel field hockey team went 1-1 last weekend, and even though its six-game win streak was snapped, a loss may be more valuable in the long run.

The Dragons started the weekend with a 6-1 win over Dartmouth College at Vidas Field, and it was a total team effort, as six different players scored a goal.

"We were coming off an overtime win against Cornell from the previous Sunday, but everyone felt we could've played much better. We came out against Dartmouth ready to do just that," senior co-captain Kristen Focht said. "It was a nice team win for us with a lot of teammates contributing, so it was exciting to see."

Drexel had a day off and then faced a gritty Rutgers University team. Even though the Dragons outshot the Scarlet Knights 17-4 and drew 12 penalty corners to Rutgers' two, they couldn't get the job done in a 1-0 loss. Instead of dwelling on the negatives, the Dragons will focus on the positives of this game and try to improve as a team.

"Rutgers is a strong team, and we had a lot of opportunities on which we just didn't capitalize," Focht said. "We're thankful we have the opportunity to learn from that game and make some adjustments before we begin conference play this weekend."

This weekend, Drexel will take on two Colonial Athletic Association opponents. On Oct. 11, the Dragons will take on Northeastern University, which will be the first conference game of the year for Drexel and a rematch of the 2012 CAA Championship Game. Drexel will get a day off and then will be right back at it Oct. 13 against rival Hofstra University.

"Both teams always give us a good fight, so it's important for us to play together and bring it each game," Focht said. "We're really excited to start playing CAA teams and keep pushing forward."

The Dragons are ranked 19th in the most recent National Field Hockey Coaches Association rankings, but even though they have seen success so far this season, they may face their most challenging test yet.

"The season is broken into parts, and we are now approaching the most difficult part: the CAAs," head coach Denise Zelenak said. "We matched up against some strong opponents during the first half of the season, and we did our best to prepare the team for the challenge of conference play."

Each loss serves as a learning point, and the Dragons have much bigger things on their minds than obsessing over a loss.

"We are in a good place as a team," Zelenak said calmly. "If we continue to take one game at a time, I believe our overall goals will take care of themselves."

With Drexel winning the 2012 CAA championship in overtime against Northeastern, you can bet there will be some revenge lurking in the Boston air when Drexel comes to town.