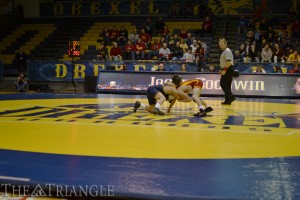 The Drexel wrestling team struggled Jan. 19 in the Colonial Athletic Association duals in Fairfax, Va., dropping two conference meets against the Binghamton University Bearcats and the Old Dominion University Monarchs. The Dragons fell to Binghamton 29-14 in their first meet and 27-9 to Old Dominion in the second.
The Dragons fell into an early 7-0 deficit in the Binghamton meet with two losses, including a major decision. Drexel was able to get on the board in the third match, as Frank Cimato recorded a major decision against Binghamton's Dan Riggi in the 141 weight class. The next match went to the Bearcats, as Shane Fenningham was unable to build off Cimato's win. Following the defeat, Austin Sommer and Connor Moran got the Dragons back into striking distance with a major decision and a win-by-fall, respectively. However, the Dragons were not able to complete the comeback, as Binghamton rolled off four straight victories to finish the dual.
The wrestlers had a short turnaround and were right back on the mats after the loss to take on Old Dominion. To the dismay of the Dragons, this dual went much like the first one.
The Dragons fell behind in the same fashion, dropping the first two matches. Cimato wrestled a hard-fought 3-2 victory against Old Dominion's Justin LaValle to secure the team's first points of the dual. The Dragons dropped the next match before Noel Blanco recorded a 6-2 victory against the Monarchs' Brennan Brumley. Moran followed with a 3-0 win of his own at 165 as the Dragons were looking to get back into the dual.
After getting back-to-back victories, the Dragons looked to be gaining momentum heading into their final four matches of the dual. The Monarchs, however, had the answer to the Drexel wrestlers, as they took the final four matches of the dual to secure the victory. Head coach Matt Azevedo said he believes that while his team was unable to win, the wrestlers were still competitive in their matches.
"We wrestled very competitively against both teams but were unable to win the close matches," he said.
Following their two losses at the CAA duals, the Dragons have dropped their last four overall. Not only has the high-level play of their opponents plagued the Dragons of late, but injuries have also proved to be costly.
"Injuries have plagued the team all season, but I'm hopeful that we will be at full strength by the conference championships," Azevedo said of his team's health struggles.
The Drexel wrestlers will return to the mats Jan. 26, when they take on Sacred Heart University at the DAC at 7 p.m. The Dragons will look to have a bounce-back performance at home and snap their losing streak heading toward the conference championships.
"Our guys need to win the close matches in the upcoming duals," Azevedo said. "That's the key to winning duals and having success at the conference championship."