In 1996, Malik Rose led the Drexel Dragons to their most recent NCAA Tournament trip, which concluded with an exclamation point as Rose and the Dragons defeated fifth-seeded Memphis before losing to Syracuse in the program's only second-round NCAA Tournament game in its history.
In addition to Rose's heroics, 2003 was also another one-and-only for the sixth team in a city apparently tailored for just five Division I basketball programs — but don't tell head coach James "Bruiser" Flint that — and that was the team's only Colonial Athletic Association championship game appearance, which they lost 70-62 to UNC Wilmington.
Well, don't look now, but the Dragons have made yet another splash in the world of mid-major conferences. Flint and company have been chosen in the CAA preseason coaches' poll as the No. 1 team in the conference.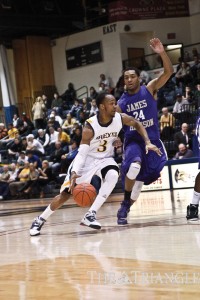 "When you return six or seven players from the year before and two all-league players, you'll be picked pretty high," Flint said. "We returned the most starters, that's basically it. … We knew we were going to be picked pretty high."
Associate Head Coach Mike Connors added on to Flint's point, saying that there could have "been at least four or five other schools" that could have received the top votes.
"I mean we're happy we were picked No. 1 — it's exciting — but we've got to go out and still play the games," Connors said.
Most coaches might say that although they feel their team has the talent to be No. 1 year in and year out, having everyone point that fact out might put some added pressure on their players' shoulders, but this Drexel staff. They're a confident yet monotonous bunch, especially Flint, who wasn't having any of the "added-pressure" concept.
"You go into the season every year to win the league," Connors said as Flint agreed. "Whether or not you're picked preseason No. 1 or not has no bearing on pressure or anything. You're still working hard every day to be the best team that you can be, regardless of preseason rankings."
But why are the Dragons so highly respected these days? It's because of their grit and determination, and leading that charge is the team's lone senior, forward Samme Givens, whom Connors said is the ultimate team player day in and day out. The Philadelphia native is coming off his best season to date, as he averaged 12.2 points per game and a conference-leading 10.1 rebounds per game in 2010-11.
"I want [Givens] to have a good year," Flint said. "I'm trying to tell people that I think he's got a chance to be [CAA] Player of the Year, but not everybody in the league listens. For him it'd be good for us to win the league and go to the NCAA Tournament. It's great for seniors to go out with a bang.
"He's always been a good player for us. He's always been a good kid, so you hope that he goes out the right way. The ultimate would be for him to be player of the year and for us to win the league."
Joining Givens on the hard court will be three key returning juniors in guards Derrick Thomas and Chris Fouch as well as forward Daryl McCoy. Connors talked about his expectations of three of their team's core players, saying that they have all been there and done that, and now they just "have to be consistent in all aspects." Flint laid out a pretty detailed blueprint of his expectations for the three juniors as well.
"They have to be a little bit more leaders just because they've been through it. Those guys have been starters pretty much since they been here, especially Daryl and Derrick," Flint said. "Now they've got to show the younger guys that this is what we need to do. Same thing with Chris: His health hasn't been the greatest, but he's a guy that's played a lot of minutes, been an all-league player, been rookie of the year."
Unfortunately for the Dragons, one of those three key juniors in Fouch, the team's spark plug as the sixth man off the bench as well as the top shooting threat (he led the team with 14.9 points per game last season), will miss most, if not all, of the early season due to an offseason knee surgery. Flint talked about the fact that his new freshman perimeter players will be looked at to step up.
"I think it's going to be different guys in different games because they're freshmen, so you're going to get that up and down," he said.
The last two pieces of the puzzle for the Dragons are the returning sophomores in point guard Frantz Massenat and forward Dartaye Ruffin, who are coming off stellar rookie seasons.
"We knew they were going to have to play a lot [last season]; we didn't have a choice because they had to be out there. They played better than most freshmen are going to play when you throw them in the fire that way," Flint said. "Again, just like Daryl, Derrick and Chris, I thought they got better from their freshman year to their sophomore year, so I'm hoping for the same thing with those two guys."
The only unknowns remaining for the Dragons' upcoming season are the rookies on the roster. What are Dragon fans supposed to expect from these inexperienced players? In Flint's words: nothing.
"I never expect big things from my freshmen. I just want them to be solid," he said. "I don't hype my freshmen, though, because I think it's too hard; you put too much pressure on them."
"They don't need to be Superman," Connors said, alluding to an all-too-important word — consistency. "We don't need them to come in and score 20 points or get 15 rebounds, just be solid every day."
As for the overall team, Flint broke it down pretty nicely and went describing what his Dragons need to do in order to achieve the success they strive for, as well as to live up to that No. 1 CAA ranking.
"We've got to make sure we're doing the things that make us good, which is rebounding the ball, playing defense and taking care of the ball," he said. "For us to make the next step, I think we've got to shoot the ball a little bit better from the foul line and from the three-point line, and if we can do that, then I think we'll be fine."
At the end of the season, every team in the NCAA hopes to be in the same position: at the top of their respective conferences and therefore earning automatic bids into the NCAA Tournament. Consistency plus improvement equals success; that's the road Flint plans to take his team on in order to reach that all-important automatic bid.
"We've got to have some consistency, but not just consistency because, even with consistency you can sort of flatline a little bit," he said. "It's about getting better throughout the entire season. If we can get better throughout the entire season, then we give ourselves a good shot to do what we need to do, which is win the league and go to the NCAA Tournament."