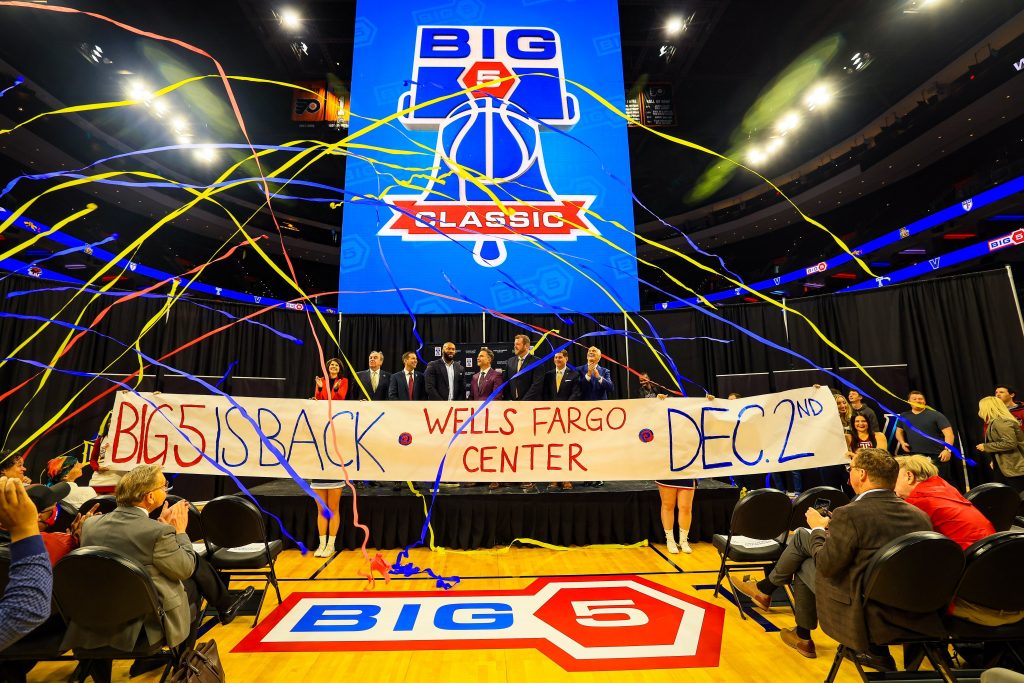 For the first time in history, the Drexel men's basketball team will play in the Big 5 tournament. The Philadelphia tradition, which was founded in 1955, consists of six Division I Philadelphia-area universities. The colleges participating are La Salle, Saint Joseph's, Temple, University of Pennsylvania, Villanova, and the most recent addition, Drexel. The Big 5, in its former iteration, had lost traction as the stakes grew lower and Villanova lost interest in the partnership. This new form aims to revitalize the historic institution.
With the expansion to six teams, the format of the tournament will look a little different this year. The teams are separated into two pods of three teams and will play two games, round-robin style. Then, at the beginning of December, all six teams will play at Wells Fargo Center in a triple-header feature.
Drexel will be playing against La Salle and Temple. Take a look at the upcoming games, and what to expect
Pod Game 1: at La Salle, Nov. 7, 2023 @ 6:30 p.m.
The first game of the 2023-2024 season will be taking place at La Salle. Drexel first played La Salle in 1996 and currently has a 5-10 record against them. The most recent matchup was on December 10th, 2022, when the Dragons beat the Explorers 65-58 in overtime. Being the away team might be an advantage for Drexel as they have won the last four games played at La Salle.
Pod Game 2: vs Temple, Nov. 14, 2023 @ 7 p.m.
This game against Temple is historic for Drexel. Not only is it the home opener, but it is also the first time Temple will be playing at the DAC. Drexel has played Temple sporadically since 1993. These teams last met on November 27th, 2022, when Temple defeated Drexel 73-61. Overall, Drexel's record against Temple is 1-8. Their only victory came in 2006.
Big 5 Tripleheader Game 3: TBD, Dec. 2, 2023
After round-robin play, Drexel will be matched against either Saint Joseph's, UPenn, or Villanova, to compete for the championship, 3rd place, or 5th, depending on their record in pod play.
There will be a student section at the Wells Fargo Center. Drexel students must fill out an interest form which can be found on the athletics website in order to secure their free student tickets to this event.
Staff Predictions
The Triangle Sports team made predictions for who we think will win the Big 5 tournament.
Raphael Bartell: I think Drexel is going to win the Big 5 this year. They have a talented team that has been together as a group for a long time now. They are going to be more than motivated to finally compete in the tournament.
James Biernat: With returning star Justin Moore leading a team that's won 8 out of the last 9 Big 5 Classics, it's hard to argue against Villanova. Despite a down year in 2022-23, they should look to return to being one of the best teams in the nation in year 2 with Kyle Neptune.
Janine Gin: For me, Villanova is the obvious choice. In the October 16th Associated Press poll, they ranked #22 nationally out of all basketball programs. No other Big 5 School comes close to that.
Victoria Harrigan: Though Drexel is the rookie Big 5 team this year, their projected starting lineup brings hope. Also, Amari Williams has proven to play an incredible defense and consistently score Drexel some points each game. Villanova will undoubtedly be a challenge, but with the help of Coach Spiker, I think DU will turn out to be the champions.
Paulie Loscalzo: While it may be our first year in The Big 5, it also may be Drexel's best opportunity to take the title back to 33rd and Market. The Dragons bring in an experienced team to the tournament, and they catch every other Big 5 team at some of their most dysfunctional periods in years. Drexel beats Villanova in the finals.
Jack Margolin: I expect Villanova to win the Big 5 this year. Their program has consistently produced winners and NBA talents. They have all of the necessary pieces and coaching to succeed.