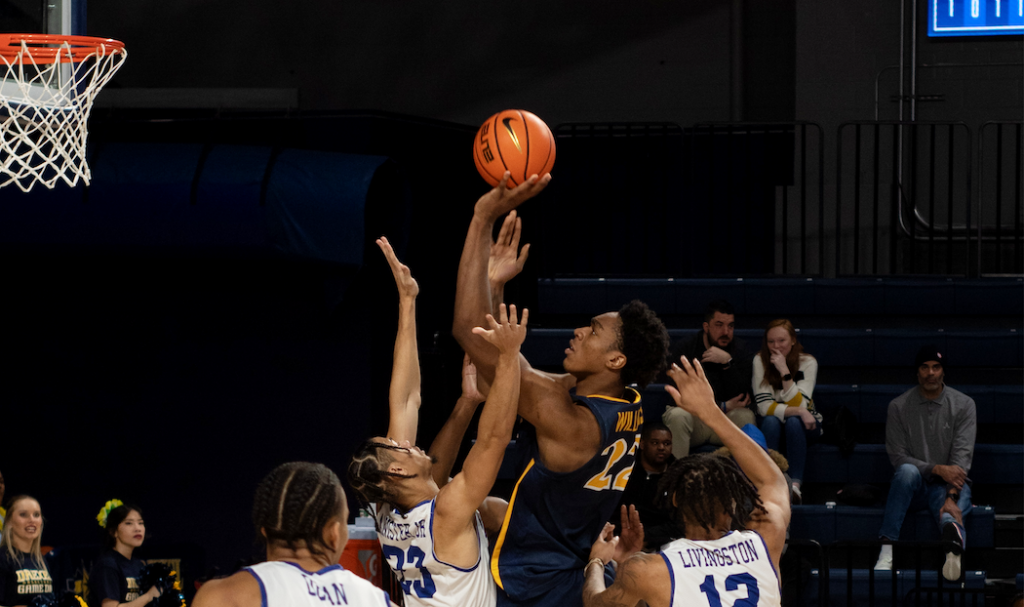 The Jan. 19 basketball game between our Drexel University's Dragons and Hampton University's Pirates featured a special theme— a "Bluau." The Daskalakis Athletic Center was transformed into a tropical beach setting. Fans including the DAC Pack and the Pep Band wore blue Hawaiian shirts and yellow leis. In between timeouts, the "bongo cam" was displayed, where fans caught on camera pretended to play on bongos on the big screen. A limbo contest was held at half court, with the winner receiving a gift card to Ed's Buffalo Wings and Pizza; the song "Hawaiian Roller Coaster Ride" played over the PAs as the Pep band stood up and led a conga line through the stands for the whole song.
Though the fans and the Bluau theme were fun and carefree, the game was intense. Drexel scored the first point of the game, with Justin Moore hitting a 3-pointer only a couple of seconds in. Drexel continued their early dominance when Coltrane Washington blocked a shot and then hit a 3, bringing the score up to 8-0. However, Hampton began to mount a comeback. After a missed flagrant, they started hitting their baskets, making the score 18-16 in favor of Drexel at the first timeout. Justin Moore managed to widen the lead, hitting some 3s, and Amari Williams went 4-4 with his free throws.
Despite Hampton's Marquis Godwin going 3-4 with his FG's and inching closer to a tie, the first half ended with Drexel leading 37-33. When the second half began, Drexel's Lamar Oden Jr hit a 3, bringing the score to 40-33. Drexel dominated the court, only allowing Hampton to score 4 more points over the course of five minutes, and the first timeout of the half had a score of 47-37 Drexel. However, Drexel started getting rocky on the defensive end, and ended up allowing various turnovers. Hampton took the opportunity to mount a comeback with nine minutes left. Despite Drexel getting a turnover and driving down the court, they could not score thanks to blocking from Hampton. Hampton managed to score a 3 and then made one FT, making the game 62-59.
Despite Drexel giving it everything they could, their lead kept narrowing everytime they managed to get ahead of the competition. Fouls began catching up to them, and they began missing at the FT line. With 37 seconds left, Hampton scored a 3 to make their score 71, three points behind Drexel. But with 14 seconds left, Hampton's Marquis Godwin missed a potential game-tying 3 pointer. Drexel scored, then managed to make one FT to bring the score up 77-71. Hampton managed to sink a nice dunk to bring the score 77-73. But, as luck had it, they missed yet another 3 pointer. After another foul, Drexel made both of their FT's. As the clock ran out, Drexel managed to win this game 79-77.
Judging via the stats, it was clear that Lamar Oden Jr. was the most outstanding player of the game. With 19 total points and going 1-1 on his free throws, he stood out and helped bring a victory to home court. When asked about his performance, coach Zach Spiker said he was "really good from the 3 point line… 4-5… maybe he's the greatest shooter."
Zach credited Lamar's performance to "the fruits of his labor in the unseen hours," referring to his staying after practice to study and putting in long hours at the gym. Zach also mentioned the strong performance of Hampton's Jordan Nesbitt, mentioning his "ability to take over the game from time to time," but bringing it back around to credit how well Lamar read the defense, managing to cause loose balls and set them off edge.
In the end, Drexel managed to secure their fifth home victory in a row, bringing their season record up to 9-8. The subsequent homecoming game against Delaware resulted in another home victory, a morale booster as they beat their biggest rival on homecoming.