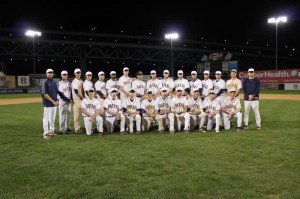 You can just imagine the scene. College baseball players are gathered around, maybe in the dugout or maybe after a long and hard-fought game to end their season. Their uniforms are probably dirtied and grass-stained, smudged eye-black on both cheeks. Instead of the manager walking in to go through the customary postseason speech that says something about having a great season and looking forward to next year, the athletic director walks in.
He tells the players that they have just played their last game ever because the school is dropping their NCAA Division I baseball program.
That was Drexel in 2003. Along with the women's volleyball team, the Dragons' baseball team was cut for Title IX compliance. Drexel's athletic director, Eric Zillmer, expressed an interest in competing at a higher level in the Colonial Athletic Association, the conference that Drexel joined in the 2001-02 academic year, and the money saved by cutting the baseball and volleyball teams would help the University do so.
Title IX is part of the 1972 Education Amendments. It states that "no person in the United States shall, on the basis of sex, be excluded from participation in, be denied the benefits of, or be subjected to discrimination under any education program or activity receiving federal financial assistance." By competing in collegiate athletics, student-athletes are covered under Title IX. Drexel has long been recognized as a leader in gender equality, being ranked No. 1 in the category by U.S. News and World Report in 2002.
In the season before getting dropped, the team went 12-34 overall with a 3-17 record in the CAA.
Although the baseball team was dropped in 2003, the dream was never lost. All the players wanted to do was keep playing, no matter what level. They loved the game of baseball and that was it. "The other sports are just sports," broadcaster Bryant Gumbel once said. "Baseball is love."
In 2006 the baseball dream was revived at Drexel. Baseball became recognized as a club sport, as it is still recognized today, and a member of the National Club Baseball Association.
"The quality of the competition is comparable to [NCAA] D-II or D-III," president of Drexel Baseball and finance major Sean Gallagher said. "We actually play D-II and D-III teams every once in a while, and [we compete] for the most part."
Club sports are separate from the University's athletic department, are funded by the Drexel Student Activity Fee Allocation Committee and are completely student-run. All scheduling, travel arrangements, fundraising, equipment management, marketing and coaching is done by the team's president, vice president and treasurer, who juggle their administrative responsibilities on top of playing and being students.
Fundraising has been a major focus for the baseball team over the past few years. SAFAC's allotted budget for the baseball team is large in relation to other on-campus student organizations, but it is less than a quarter of what club baseball teams at some other big-budget universities get. This means that players are paying annual dues and carpooling to practices and games. Forget about a per diem like Division I athletes are afforded on road trips; these guys are forced to operate more like a local little league.
To bring in enough money to make ends meet and begin to ease the financial burden on the players, Drexel Baseball has held a variety of events. Last year the team held its first annual Alumni Weekend. Over the course of two days, the team reconnected with its roots, holding an alumni game and an alumni golf outing. When paired with the team's yearly merchandise sales, Drexel Baseball is able to fundraise more than the amount allocated by SAFAC.
The club's fundraising efforts have helped the recent growth of the program. Last year they finished with their best conference record ever in the NCBA's North Atlantic East Conference at 10-2. The North Atlantic East Conference is comprised of Rutgers University, the University of Delaware, Towson University and the recently added Hofstra University. In fact, the program has grown so much over the past few years that players need to try out for a chance to play on the team.
"It started out that we just had enough guys to play when they first started the program," Gallagher said. "Now it is to the point where we have to turn some guys away from playing. We're taking the best of the best at Drexel that want to play baseball."
Tryouts for the fall team will be held during the first two weeks of fall term, and there is a $25 tryout fee.
Now, they know that if they want to take another step forward, they need to hire a full-time coach. Since becoming a recognized club sport at Drexel, the baseball team has had either a player or a recent graduate of the program act as coach.
"Our main goal right now is to get a head coach, which is what we have been searching for all this summer," Gallagher said. "We recognize that a coach is a huge part of our game."
A coach is next on the list of things to do, but there are visions of getting Drexel Baseball back to its place in Division I where it once was. Drexel recently expanded its athletic department to add men's and women's squash in 2011, so the willingness to grow is in place. If Drexel Baseball continues to grow, then maybe they will be next. For now, though, they will gladly continue playing for the love of the game.